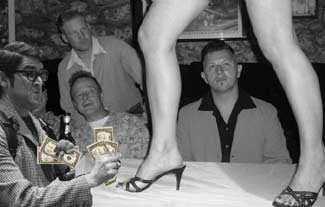 Because no one can ever get enough insane Craig's List postings, Eye On Foxborough has found a particularly fun fellow who is trying to rent his house out for the Super Bowl. No big deal, right? Well, how about some strippers?
Yep, you can have those too. They really need the money.
I HAVE A HOUSE I WOULD LIKE TO RENT FOR SUPERBOWL SUNDAY. MY WIFE AND I COULD REALLY REALLY USE THE MONEY TO CATCH UP ON BILLS. WE WOULD TAKE CARE OF ALL YOUR MEALS AND PROVIDE TRANSPORTATION TO AND FROM THE GAME. AS AN ADDED BONUS WE HAPPEN TO BE FRIENDS WITH A FEW VERY ATTRACTIVE STRIPPERS, WHO WOULD BE WILLING TO STOP BY AND TAKE CARE OF SOME OF YOUR ENTERTAINMENT NEEDS!!!!!!!!!

WE REALLY NEED THE MONEY, AND WOULD BEND OVER BACKWARDS TO MAKE SURE THAT YOUR STAY IS A PLEASANT ONE. AND OUR FRIENDS MIGHT BE WILLING TOO DO THE SAME...
Don't try to make a bid, by the way: Leinart's already wrapped up the deal.
Man Offers Strippers To Super Bowl Renters [Eye On Foxborough]