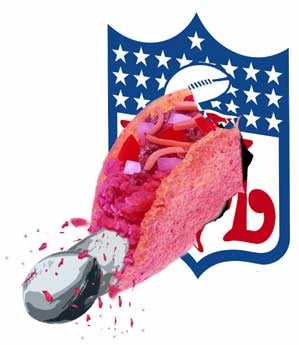 Big Daddy Drew's Thursday Afternoon NFL Dick Joke Jamboroo previews the upcoming weekend of the NFL every, well, every Thursday afternoon. Even when there are no games.
No tedious buildup here. This is the longest, most needlessly overwritten Jamboroo yet. Let's get right to the fucking game.
Super Bowl Pick
All Super Bowls in the Jamboroo are evaluated for sheer watchability on a scale of 1 to 5 Throwgasms. And I'm boldly forging ahead and making a pick.
Five Throwgasms
Patriots 30, Giants 20. If this game had been played a week after the conference title games, I would have picked the Giants. I really would have. They can rush the passer with just four men, throw the ball deep and mix up the running game with Bradshaw and Jacobs. No reason they can't give the Patriots a decent game, as they have already proven.
But with this goddamn two-week layoff? I'm not as optimistic for a good game. I hope I'm wrong. It's the last game of the year. I don't care who wins, I'm just gonna sit in my chair and pray that the game doesn't turn into one giant fucking suckfest by halftime. Because, when that happens, and the last half of real football you get to see until September is absolute dogshit, well that sucks. So I hope it's a good game. I really, really hope it's a good game. 'Cause it's all I've got. When football season ends, antisocial drinking season kicks into high gear.
By now, you've probably figured out that this column isn't about football, it's about WATCHING football. I love the game. But what I love even more is all the ritualistic shit around it: getting excited for the game, shooting the shit about who's gonna win the game, picking out the right chips at the supermarket for consumption during the game, ordering a hooker the morning of the game, telling Patriot fans they're insufferable fucks and pissing them off by unfairly portraying all of them as overwhelmingly racist before the game ... that's the real joy of this thing. So I'mma savor it. Right up until the final whistle, when the Patriots are officially 19-0, and we have to hear about it for the rest of our miserable lives.
Last Week: 0-0 (0-0 vs. the spread)

Overall: 6-4 (6-4 vs. the spread)
Drew's Guacamole Recipe
When I lived in Manhattan, I lived right in midtown by the Queensboro bridge. One block over was a Mexican restaurant named Rosa Mexicano that made guacamole in a mortar right at your table. The cost? About $15-$20. For fucking guac. That's horseshit. Here's one you can make yourself.
4 ripe avocados

2 tbsp olive oil

1 clove garlic, chopped

1/2 bunch cilantro, chopped

Juice of 1 lime

1/2 small red onion, chopped

Sea salt & pepper (to taste) - And use fucking SEA salt. Good salt is the easiest way to make anything you cook taste better. A salt grinder is the tits.
Using a big knife, cut all the avocados in half at the pit. Twist the two halves to separate them. Then, flicking your wrist, drop the sharp edge of your knife on the pit so it sinks into it a little. Twist out the pit with your knife. Throw the pits in a big bowl. DON'T FUCKING TOSS THEM OUT. They keep that shit green. Using the big knife, make a deep crosshatch pattern through each half of the avocados, like a 6x6 tic tac toe board. Then, using a spoon, scoop the halves all out into the same bowl as the pits. Add the garlic, lime juice, olive oil, cilantro, red onion, salt and pepper. Then fold it all together with a spoon. DON'T MASH IT. That's jayvee shit. Serve with chips. If you serve this to a woman, she will have sex with you. At least, my escort did.
Note To Tom Petty
Dear Tom,
Please play the following setlist at halftime: "You Got Lucky," "You Don't Know How It Feels" and "Mary Jane's Last Dance" (if you could dance on stage with the corpse of Kim Basinger for the last one, that would be awesome). I know this setlist is likely not what I will receive. I'll probably get "American Girl," then some new song that no one gives a fuck about, and then "Free Fallin'" which I'm still sick of 19 years after its release.
But you owe me, Petty. Know why? You owe me because of the end of this fucking video. Okay? I was nine years old when I saw this thing. Know what happens when you're nine years old and you watch little Alice in Wonderland get turned into birthday cake and cannibalized? Fucking night terrors, you prick. I was a little kid. I didn't know yet that doing drugs made that shit hilarious, jerkwheat. I demand recompense.
A Note About Super Bowl Ads
I work in advertising. A Super Bowl ad is a $5 to $10 million commitment for any company based on media costs, production costs, research, etc. That means everyone at the agency needs to approve it and make tweaks (this means dozens of people), and everyone at the client needs to approve it and make tweaks (this means dozens of people), and everyone at the focus group needs to approve it and make tweaks (this means dozens of people). Which means that, in the end, what you get is Cuba Gooding jumping out of an airplane drinking a can of Pepsi One.
These ads fucking blow. All of them. Even the ones USA Today tells you are good the next day? Yup, they fucking suck too. They're no better than the shitty ads you get on a daily basis. So feel free never watch one again. There was one good Super Bowl ad, and here it is:
Pregame Song That Makes Me Want To Run Through A Goddamn Brick Wall
"A Song For The Deaf" by Queens Of The Stone Age. Playtime's over, kids. TIME TO FUCKING ROCK YOUR COCK OFF. I enjoy how the sinister bassline ushers in the song. You know something fucking evil and awesome is about to happen, and then the guitars kick in and it's like DUH DUH-DUH DUH DUH-DUH DUH DUH-DUH-DUHHHHH DUH DUH DUH!!!!!! Oh yeah, that's the stuff. Really makes me want to give heroin a spin.
Not only did I used to constantly daydream about being a motherfuckin' badass football player, but I also had an entire dream football life planned out for myself, where I win 12 titles as a player and then go on to become a coaching legend with a .997 winning percentage (my one loss was due to a tragic team plane accident, but with the surviving eight players I was able to still keep my team within two points of winning). But I'm also one of those coaching legends who's such a genius that he doesn't have to put in as much work as other coaches. I had Belichick's acumen and Stoops' work ethic.
And one of the things I always wondered was: If I were a coach, what song would I play over the stadium PA to walk the team out onto the field? I think it's safe to say "A Song For The Deaf" would do the trick. So ominous. So punishing. So unrelentingly brutal.
"I can go get fucked

Lie beside the ditch

So low round my neck

Strung out every stitch"
Oh, yeah. Do those lyrics say "team with nothing to lose" to you? Fuck and yes. I'd also command stadium personnel to use only red light bulbs for night games. Playing a game under red stadium lights helps set the tone for an absolute bloodbath.
Embarassing Cassingle I Once Owned That Will Not Fire You Up
"Cold Blood," by Kix. Kix the band was formed in 1978. Kix the cereal was introduced in 1937. So members of the band knew they competing directly with a kiddie cereal that had already existed for 41 years. Pretty dumb name for a band, right? Well, considering that the band was originally named The Shooze, Kix seems like a wild improvement. The Shooze? Really? Jesus, that's fucking horrible, even from a band from Hagerstown.
(SIDE NOTE: Kix cereal is tasteless dogshit. A Kix is like an unflavored Cocoa Puff. No wonder mothers approve. But that whole "kid tested" claim? I find that highly dubious. That fact that it came in a very large box was also no help. You had to slog for weeks to finish that stupid box, just like Honey Comb. Fuck you, Kix cereal.)
The "Cold Blood" single was a favorite of mine because it also contained "Blow My Fuse" as a B-side, which was also a song I liked. Nothing like a good B-side to help you feel better about purchasing a $7 cassingle with two songs over a $12 album with a dozen of them. Many people remember Kix for "Don't Close Your Eyes," but I tell you, that song doesn't give you the full Kix experience.
Player That Deserves To Die A Slow, Painful Death
All of them, for not playing last week. Lazy assholes. I HAD TO TALK TO RELATIVES, GOD DAMMIT!
Five Potential Key Injuries

• Tom Brady (ankle?)

• Tom Brady (foot?)

• Tom Brady (tapeworm?)

• Tom Brady (African Sleeping Sickness?)

• Tom Brady (Dr. E. Henry Thripshaw's Disease?)
Actual Wild Card Of The Week
Each week until all Wild Card teams are eliminated, I'll be picking an actual Wild Card of the week. This week's is Glenne Headley's character in Dirty Rotten Scoundrels.
You mean, she's ALSO a con artist? THAT FUCKING BITCH! It's only cute when men do it, dammit!!!
Gametime Snack Of The Week
Wings. No Super Bowl party is complete without wings, chips, or chili. And, to be honest, wings are the No. 1 priority on that list. And none of this teriyaki wing shit, or some other queer variation on the original recipe. That's crap. They're smothered in butter and Franks, or they aren't wings. I also get pissed when people bake the wings and tell you they taste as good as fried wings. That's a load of shit. It's a goddamn chicken wing. It's 90 percent skin anyway. I say fry the fuckers up.
Many people go straight for the little mini-drumstick part of the wing. But I'm here to tell you, that two-boned "forearm" part of the wing is just as easy to eat if you do it right. A lot of people make the mistake of pulling the two bones apart, which results in needless spattering. Folks, there's a better way. Simply grasp one end of the piece firmly with your fingertips. Then place the entire piece in your mouth. Now, using your front teeth, bite down on the end of the piece, right in front of where your fingers are holding it in place. Then, using your teeth as makeshift wire strippers, PULL the piece back out of your mouth. Voila. You've got all the fat and skin off the two bones, leaving only a tiny shred of meat betwixt them. Discard it. It is of no use to you. You're welcome.
By the way, I don't get the celery. I'm ordering wings. There shouldn't be any vegetation of any kind on the plate. Least of all celery. Eating celery is like eating a spool of dental floss. No thanks. And fuck that bleu cheese dressing too. It overpowers the wing. And it's rather excessive, no? Why don't I dip fucking dip my fried chicken in whipped cream while I'm at it?
Gametime Cheap Beer Of The Week
Busch. Head for the mountains of Busch... beer. The name of the mountain that Busch is brewed atop? Mount Doom. Forged by the Dark Lord Sauron himself.
When I die, I'm very curious to see if Satan will answer many of the questions I have about my life. For one thing, I'd the opportunity to sit in a private room and watch all the sex scenes from my life, so that I can masturbate to them. I would also like to know which girls would have been willing to have sex with me that I didn't know about. There's gotta be one shocker in that batch. I think. I hope. Eh, probably not. Then, what I would like to do is watch scenes from an alternate reality in which I would have had sex with those ladies that would have had sex with me if I had known they wanted to have sex with me. I don't think that's too much to ask.
But I'd have other questions about my life as well. For example, I'd like to know how large of a vessel all the semen I shot out while masturbating could fill. My guess? A German U-Boat. I'd also like to know how many bagels I ate, total. I bet it's more than you had in your life.
And another question I would have is: What was the one beer I drank the most, and how much of it did I drink, in sheer volume? My guess is that Busch would top that list. Not for any special reason. If you've ever had Busch, you know it sucks. But it was the cheapest beer at my college, with a 30-pack a mere ten dollars. One time I got so drunk off of Busch that I threw up into a cardboard box, then fell asleep on the floor with my head in the same box. During the course of the evening, many people walked by and gave the box a little kick, just to make sure I was alive. Or for fun. Probably for fun. I better ask about that when I die.
I played a handful of drinking games in college and wasn't good at any of them. Quarters? Sucked. Beer die? Sucked. Beirut? Eh... everyone's decent at Beirut. Flipcup? Inconsistent. That's why a friend of mine invented a very simple drinking game that anyone can excel at. And you don't even need a table. It's called DRINK BECAUSE. And it goes like this.
This is a two-player game. Doesn't matter who goes first. Ideally, you are already shitfaced before the game has even begun. The first person must think of a reason for the other person to take a drink. For example...
"DRINK BECAUSE... you're a fucking faggot."
That one came up quite a bit. Very clever. The second player must then drink. Then the second player thinks of a reason of his own.
"DRINK BECAUSE... you fucking smell like a fucking wheel of Gouda."
Tricky game, I know. In all instances, YOU MUST ALWAYS DRINK. If someone says DRINK BECAUSE something, they've got you pinned down.
"DRINK BECAUSE... the fucking Vikings lost, HAHAHAHAHA."
"DRINK BECAUSE... you fucking jerked off in my mom's house, you fuck."
"DRINK BECAUSE... I fucking hate you... and I never really liked you."
"DRINK BECAUSE... THEY'RE FUCKING PLAYING 'PLOWED' BY SPONGE RIGHT NOW, SHITBOX."
Yep, I've wasted my life.
Sunday Afternoon Movie Of The Week For Avoiding The Pregame
Europa Europa. This is a German movie about a young Jewish man who survives the Holocaust by posing as an Aryan and joining the Hitler Youth. We watched it in history class when I was in high school. The main character, Jupp, goes to great lengths to hide his identity, and succeeds. At one point, he even passes a Nazi phrenological exam (whether he'd pass the same test in a Texas public school now is up for debate, as the state has made great strides in that particular field since then).
But there's one thing Jupp can't hide from the Nazis, and that is his circumcised penis. So, using a needle and thread, he pushes the head of his penis down into his remaining foreskin and stitches it up. Now, this is harrowing enough. But it gets worse. The penis then gets infected. Badly. And, when Jupp goes to the bathroom to examine his mangled, stitched, infected schnitzengruben, they show it close up.
GAHHHHHHHHHHHH!!!!!!!
One look and my thighs slammed shut so tightly I crushed my own balls. I'd just like to say to Agnieszka Holland, the director of Europa Europa: You fucking suck. Thanks for treating me to the 1990 equivalent of the kids in the sandbox video, you heartless frau you.
Gratuitous Simpsons Quote
"Kids, we need to talk for a moment about Krusty Brand Chew Goo Gum-Like Substance. We all knew it contained spider eggs, but the hantavirus? That came out of left field. So if you're experiencing numbness and/or comas, send five dollars to antidote, PO Box..."
Halftime Masturbation Kit

• For the guys: NSFW gallery of former playmate Kerri Kendall. I've tried to avoid the NSFW linkage all year, because I'm a dad, and that would be weird. But this link serves a special purpose. Kendall was the playmate in the very first issue of Playboy I ever stole. It featured Rosanna Arquette on the cover. Now, I was maybe 13 or 14 when I did this, and this easily ranked as my greatest accomplishment of life at the time.
There was a drug store located about two miles from my house, in a town center. On weekends, I biked all the way to the area, ostensibly to rent a Nintendo game at the video store. But, once I stole the Kendall issue (tucked into my windbreaker), I stole a new Playboy every month. And I can recite those older Playmates practically in chronological order: Kendall, Cheryl Bachman, Carrie Jean Yazel, etc. The only problem with stealing those Playboys was that I had to bike the two miles all the way home in order to get to my room and masturbate in a sweaty furor. I was fat, so it took a while. Once, I just pulled over the side of the road and did it in the woods. I may have tried to have sex with a tree, but I'm not ready to admit that.
I stole porn regularly up through my attendance at a dipshit prep school. And I never got caught, until one day sophomore year. I walked into a convenience store near campus, one I regularly stole from. I grabbed an issue of Swank, tucked it in my jacket and casually walked out. I got 200 yards when a fucking HUGE pickup truck came speeding straight at me. I froze on the spot. The truck stopped about two feet from me, and out popped a dude who looked exactly like Kenny's dad from "South Park." Only he was REAL. He pushed me to the ground and grabbed the Swank out of my jacket. Then he pointed at me and said:
"Don't you ever fucking come in my store again."
And he drove off. I swore at that moment I would never masturbate again. That oath lasted a grand total of 12 minutes. I was pretty proud of myself for holding out so long.
So this Kendall spread brings back the memories. Sad, pathetic memories. Enjoy!
• For the gals: Reese Witherspoon ex Ryan Phillippe. I saw Philippe in "Breach". It was a good flick, and he's okay in it. But he spends most of the flick giving the camera the Blue Steel look. Unpurse those lips, young man!
Blatantly False, ProFootballTalk-Style, Fred Edelstein-esque Rumor Of The Week

WE HEAR... Leitch's Super Bowl party tonight will devolve into something resembling a "Real Sex" swinger biker couples orgy segment.
Your Motivational Pregame Quote for The Weekend

"Being perfect is not about that scoreboard out there. It's not about winning. It's about you and your relationship with yourself, your family and your friends. Being perfect is about being able to look your friends in the eye and know that you didn't let them down because you told them the truth. And that truth is you did everything you could. There wasn't one more thing you could've done. Can you live in that moment as best you can, with clear eyes, and love in your heart, with joy in your heart? If you can do that gentleman - you're perfect."

-Coach Gaines
PROGRAMMING NOTE: I'll have one more Jamboroo to review the season next week, then I'm taking a week off and debuting a brand new column in this slot the week after. Will you like it? Eh, I don't really give a shit.
Enjoy the Super Bowl, everyone.