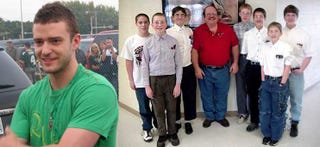 If you'll bear with us, allow us to contrast our Super Bowl party — at Zipps Sports Grill in Scottsdale at 7:30 p.m. tonight — and the Super Thursday event tonight just down the street at Axis/Radius.
First, you have the guest list for the Axis/Radius event.
Guests scheduled to appear include Michael Jordan, Peyton and Eli Manning, Justin Timberlake, Lance Armstrong, Alyssa Milano, Taye Diggs, Tony Romo, Joey Fatone, Matt Leinart, Charles Barkley, Wilmer Valderrama, Brooke Burke, Dale Earnhardt Jr. Emmitt Smith, Alice Cooper, Phil Michelson, Jerry Rice, Warren Sapp, Carson Daly, Vanessa Minnillo and Carmen Electra.
That's all fine and good. But what about ours? To quote commenter Jehovah's Witness Protection Program:
4 pencil-neck guys with acne drinking Diet Coke and playing Uno while prank-calling phoenix phone-sex hotlines and watching Woody Allen movies
Now come on: What sounds more fun to you?
OK, fine, so maybe the Axis/Radius party sounds slightly more desirable; it does, after all, have Alice Cooper. But do you really think you're getting into a party that has Justin Timberlake? Really? Right.
Let's look at the Google Map for the Axis/Radius party:
OK, now let's look at the one for our party:
You notice something? Check out the distance between the two parties:
We are seriously just down the street. And our party doesn't cost anything to get in, and everyone is welcome. Oh, and there's Uno.
So, we'll see you there.