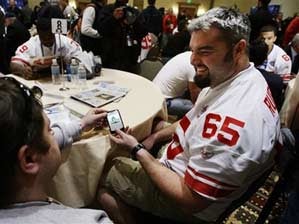 All right. We are finally (almost) there. The Super Bowl week of emptiness and discussions of ankle sprains, goat testicles and Wes Welker is at last winding down. Congrats, fans: You've just about made it to the actual game.
We're not sure what much more we can say about the Super Bowl on Sunday, which is funny, because we haven't said much throughout the week either. More proof that the Super Bowl sucks the life out of anything fun in football: The Patriots have a chance to pull off the biggest story in the NFL in 25 years, and we honestly have a difficult finding anybody around Phoenix talking about the game. In fact, they're mostly just talking about how no one's talking about the game.
We really should have shut the TV off right after Tynes' field goal. Oh well: Let's trudge through two more days.