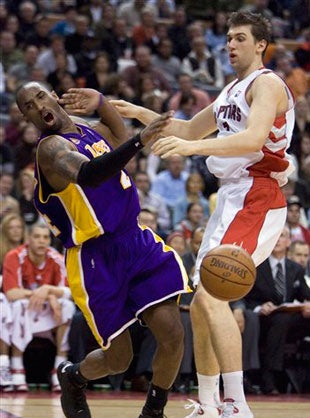 I don't know if I've ever met a single person who rooted solely for Los Angeles Lakers. In my entire life, not one die-hard Lakers fan. That's astounding. This leads me to believe that Lakers fandom is reserved exclusively for celebrities and basketball analysts. If the layman Lakers supporter does exist, this must be a great weekend for them, because they destroyed the Raptors in Toronto 121-101 behind Kobe Bryant's 46 points, and Pau Gasol could join the team for their next game, meaning Bryant won't to score as many points as he did against Toronto. So, like 43.
• Oregown3d. Days after Magic Johnson said The Knicks WILL make the playoffs ("You sure about that, Magic? Would you say you're positive?"), New York actually played like an Eastern Conference contender for about, oh, 27 minutes. That 15-point lead in the third quarter quickly dissolved into liquid sadness as the Portland Trail Blazers outlasted the Knicks 94-88 in overtime. On the night Brandon Roy is named an All-Star reserve, he scores 20 points along with 11 assists and 10 rebounds. Stop trying so hard, son. You've made it.
• Hustlepuff It's not that I'm surprised Washington lost to Utah without the services of Gilbert Arenas or Caron Butler. It's that they only lost 96-87 to the Jazz, who are sort of on a roll right now. That means this team should be able to slap together enough wins to stay in the Eastern conference playoff picture. This also throws a big ol' monkey wrench into Magic Johnson's prediction.
• Celebrating The Absence Of Futility, If For One Night. Minnesota finally reaches 10 wins, and it only took until February. It came at the hilarious expense of the Clippers, 104-83. This was also their first win by at least 20 points. This gives us the first chance to actually see who plays for the Timberwolves... hey look, Sebastian Telfair! I thought he died.