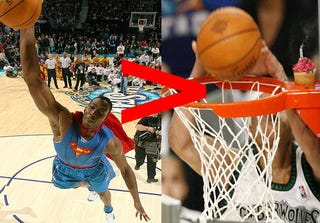 Finally the right man wins the dunk contest. This is what happens when you don't allow Michael Jordan to be a judge, even if Darryl Dawkins is perhaps his equal in hateration. Howard stole the show in what many are saying was one of the best dunk contests ever, if at least in recent memory.
For all the difficulties that Gerald Green was having getting a decent ball from Rashad McCants, I think it behooves the scientific community to create a dunk contest lobbing machine of some sort. They might sniff that it's a narrow purpose, but I contend a necessary one.
Meanwhile, Toronto's Jason Kapono took the 3-point shootout for the second straight year with a record-tying final round score of 25 and I stage yawned for all to see.