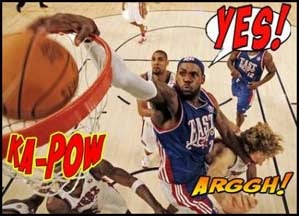 The NBA Closer is written by Matt McHale, who spent most of the weekend wearing Superman pajamas and recreating Dwight Howard's award-winning dunks on a Nerf hoop. When he's not wearing blue tights with little red undies on the outside, he can be found practicing his dunk face at Basketbawful. Enjoy!

• Niiiiiice outfits. But not really. The United States Drug Enforcement Administration is currently investigating how much crack was used by NBA clothing designers to create the bizarre, two-toned Frankenjerseys that were used in this year's All-Star Game. On the bright side, if any of the players decide to wear their All-Star uniforms while jogging outside at night, one half of their body will be totally reflective. So they've got that going for them.
• Now you see him, now you don't. Kobe Bryant, appearing in his tenth All-Star game, disappeared after only two minutes and 52 seconds. Mamba sat out the remainder of the game to "rest" his injured right pinkie finger -do injured pinkies get tired? - and I probably would have forgotten he was even there if not for the persistent reminders from Reggie Miller and Doug Collins. When the game got all close and competitive in the fourth quarter, Reggie assured us all that it was "killing" Kobe not to be in the game. However, video footage showed a seemingly happy Bryant laughing and joking around with Steve Nash on the sideline. I guess he was just being brave.

• Strategy and coaching? In an All-Star Game? Doc Rivers decided to neutralize the size of the Western Conference All-Stars by utilizing a small lineup and letting them run their taller-but-slower opponents off the floor. And you know what? It worked! That is, until Byron Scott countered with a small lineup of his own. Wow. I thought All-Star Game Coach was just sort of an honorary position, like porn movie director and the Pope.

• Dwight and LeBron like to share. It seemed like half of the East's points in the second quarter came from Dwight Howard and LeBron feeding alley oops to each other. It was like watching somebody play the All-Star Game in NBA Live.

• Yao Ming: Three-point shooter. Back when he was still making All-Star teams, you could always count on Shaq to hoist up one or two ugly threes. I'm talking Gheorghe Muresan-level ugly. Well, in Shaq's absence, this year's three-point comic relief was provided by Yao Ming, who tossed up two triples, including one step-back-behind-the-line shot from the baseline that sailed right past the basket. Speaking of which...

• Anybody else feel a draft in here? Somebody needs to check the roof of the New Orleans Arena. There must have been some mad winds tearing through that place, because there were several three-point attempts that hit nothing but air. Yao, J-Kidd, LeBron, and Dirk Nowitzki all aired out at least one three-pointer.

• Hey, he's not left-handed, is he? Did you see Rasheed Wallace's face during the introductions? He wouldn't have wanted to be at the game any less if David Stern had asked him to eat a pair of cow's testicles before tipoff. 'Sheed then went out and showed his respect for the competition by putting up three left-handed three-pointers. (He did hit one of them, though.)

• Steve Nash: Poster boy. At one point in the second half, it seemed like the East players were taking turns posterizing Steve Nash. Dwight Howard dunked over him, Dwyane Wade hit a turn-around jumper in his face, LeBron James shot hit a fader over him, and then Ray Allen drove past him and drew a foul. Let's face it, if you didn't score on Steve Nash, your All-Star experience just wasn't complete.

• That's what we call Shaqnosis. What was up with the freethrow shooting? The East shot 42 percent (6-for-14) and the West shot 57 percent (8-for-14). All I know is that it's pretty bad when you can honestly say, "The free throw percentages wouldn't have been any worse if Shaq had played in the game." Even Ray Allen - who's third in the league in freethrow shooting at 91.4 percent - missed two foul shots.

• Take that, Superman. Amare Stoudemire gave this year's Slam Dunk Champion a lesson in superheroics by driving in for a nasty fourth quarter dunk. You know, I think an Amare Stoudemire dunk would kill me. And I mean a literal, physical death. So, you know, I'm sure glad I didn't make the All-Star team this year.

• Is it possible to repossess a nickname? Chauncy Billups hit a jumper with 6:41 left in the fourth to tie the game at 112, and Doug Collins was quick to remind us that Billups is Mr. Big Shot. Of course, Mr. Shot gonked an even bigger three-pointer less than a minute later. On the night, he was 3-for-10 from the field and 0-for-6 from Threeland.

• Look out, Dirk, look ouuuuuuut!! With 59 seconds left and the game tied at 125, LeBron stole the ball from Nowitzki, dribbled downcourt, waded through the entire Western Conference lineup, and then dunked it home while planting a forearm in Dirk's mug (refer to the accompanying graphic). That's what Herr Nowitzki calls "gepoopensheiten."

• Now that's offensive. With 46 seconds left and the East leading by two, Chris Paul set an illegal pick on Ray Allen. And by "illegal pick" I mean he shoved Ray-Ray to the floor. But still, who calls an offensive foul in the final minute of an All-Star game?

• Hey! Don't forget about me! I'm money too! With the East holding onto a precarious two-point lead, Dwyane Wade drove in for a sweet driving layup and got fouled by Brandon Roy. Pookie missed the freethrow, but he made up for it by totally stuffing Nowitzki's three-point attempt at the other end. Yeah, I know; rough night for the reigning league MVP.

• LeBron James: MVPburgler. I'm not saying that LeBron didn't play well enough to deserve the MVP award - King James had 27 points, 8 rebounds, 9 assists, and that sick dunk over Nowitzki - but Ray Allen flat out rescued his team with 14 fourth quarter points, three straight three-pointers in the final three minutes, and a game-high 28 points in the East's 134-128 win over the West. But that's what happens when you let the fans choose the MVP.

• Take note, people. His team lost, and that cost him the MVP award, but Chris Paul (16 points, 14 assists, 4 steals) is really, really good.