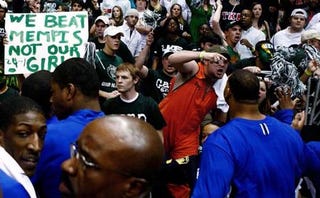 So here's a stark reminder that even when things are seemingly going perfectly, — as in 25-0 — it can all turn horribly wrong in an instant. As you've no doubt heard by now, Memphis saved its unbeaten season on Saturday with a 79-78 win at UAB; on a three-point play within the final 10 seconds of the game. But then things turned ugly, as the Memphis Commercial Appeal photo here shows.
But thankfully it never got Malice-in-the-Palace ugly ... despite the fact that a Memphis player slapped a UAB fan, and people were throwing cups, liquor bottles and pom poms from the stands (what, no dead cats?). Conference USA is reviewing the melee, but Memphis officials say that no penalties are expected.
Meanwhile, as the Tigers ran into the tunnel, cups, pom-pons and even a bottle of alcohol was thrown at them from the stands. The Comcast Sports Southeast broadcast showed several members of the staff, including director of performance enhancement Richard Hogans and director of student-athlete development Rod Strickland restraining senior Joey Dorsey. The video also showed senior Andre Allen and Niles being restrained by staff members. A photograph taken by Mark Weber of The Commercial Appeal showed Niles' open hand making contact with the face of a fan who appeared to be taunting him.
First of all, hey, Rod Strickland! Didn't he play for, like, 12 NBA teams? He was one of my favorite players. And secondly, I had no idea they cared this much about basketball in Conference USA. Perhaps Memphis just could end up running the table this year.

No Penalty From League Expected After Fracas [Memphis Commercial Appeal]