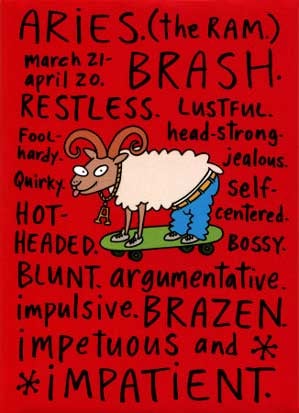 The College Basketball Closer is written by the gang at Storming The Floor.
There are all kinds of bracketologies and bubble watches out there, but I want to take a less scientific approach to guessing who will make the tournament and how. So, with the help of our weekly horoscope, here's the outlook for a couple of likely tournament teams, as determined by their nearest astrological sign - the Ram.
Aries: Virginia Commonwealth, Rhode Island
Strong moves forward are highly likely this week with hot connection days the 19th and 21/22nd. Power figures are most helpful and money people give you the nod. Having to 'work over the weekend' in some form is likely, even in schmoozing and success rates appear very good to excellent. Leo, Virgo, Pisces and other Rams appear most helpful this week.
What this means: For VCU, their leonine conference mates at Old Dominion didn't do them any favors last week, beating them 67-66 to drop the Rams to 12-3 in conference play. The Monarchs can help out VCU by beating surging UNC-Wilmington on March 1, which may or may not be a "hot connection day". Rhody just took a beating from Xavier, and the only virginal types in the vicinity are the Providence Friars, so we can only assume that the hooded ones will shake their recent four-game losing streak and knock off Big East bubble team West Virginia this week, leaving the way clear for URI to grab a plum at-large bid.
Never mind RPI and SOS - the answers to your tournament questions are in the stars!
That D.J. is Playing My Song! Texas 77-Texas A&M 50. D.J. Augustin is technically a point guard, so we shouldn't be too surprised that he had deferred his scoring recently, as Damion James and A.J. Abrams heated up. But tonight, #14 in your program got all selfish again, pouring in 27 points in a rout of the Aggies. It wasn't all me-me-me, however. Augustin still slung nine dimes over the course of the evening.
Lavender Parfait. Is That the New Album by Prince? Xavier 81-Rhode Island 77. When you tell people you're going to see Drew Lavender and Parfait Bitee, it's only natural for them to assume you're off to the local drag show. But this year, that's just rough-and-tough A-10 basketball. Bitee did his part, scoring 25 in a loss. Lavender was partially hobbled by a nagging injury, and his stat line reflected that fact. The X-men benefited mightily from the bench play of Senior Forward Josh Duncan, who was a perfect 8-8 from the floor, with 3-3 from behind the arc, and 4-4 free throws, for 23 points on the night.
Tonight's Big Game
Purdue (21-5) at Indiana (21-4). Aargh. All of the plots and subplots will drive a guy mad. I'm ready for this one to hit on the hardwood. Still, it's worth noting: Indiana coach = under indictment. Indiana star forward = kinda sorta injured. Purdue = eleven wins in a row, and counting. This is the only time the two Indiana-based Big Tenners will meet this regular season, so let's get it awn.