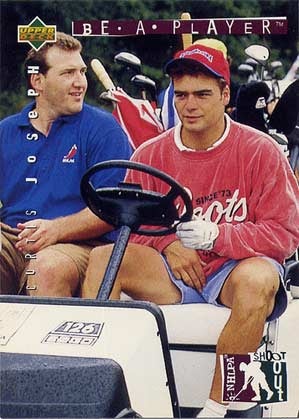 The NHL Closer is written by Greg Wyshynski, of FanHouse and The Fourth Period. He is also the author of Glow Pucks And 10-Cent Beer.
There were nine games last night. Some absolutely insane stuff went down. The only way to perfectly capture the essence of that insanity is through the visual aid provided by some of the most unintentionally hilarious sports cards in the history of stale gum and wax packs. Seriously, it's enough to make Curtis Joseph play with himself on a golf cart.
We begin with a memorable moment in hockey history: Michael Ryder actually resembling an NHL player again, at least for one night. Oh, yeah: It was also the first time in the 99-year history of the Montreal Canadiens that the team rallied from a 5-0 deficit to win a game — 6-5, thanks to a Koivu a shootout goal, over the visiting Rangers. The Blueshirts chased Carey Price with three in the first 13:56 of the game, and then tagged Huet with two. After that, it was all Habs, right down to a falling Alexei Kovalev's one-timer at 15:38 that sent the game into OT and gave the world this money quote from one of the League's most notorious Louganises: "If I keep scoring, I'll keep falling down." (And by Louganis, I mean a habitual diver. Just so we're clear.)
There's really only one way to express the dual pleasure of Montreal's comeback and a spirit-crushing defeat for the Rangers, and that's with Joe Juneau's 1994-95 Upper Deck "Be A Player" ode to bestiality:
It's Too Damn Hot for a Penguin To Be Just Walkin' Around. Pittsburgh once thought it had mono for an entire game; turns out it was just really bored. "Off the bat, for whatever reason, it takes us a while to get going and sooner or later that might come back to bite us," said Ryan Malone, who scored twice in the last 3:20 of the game to beat the Panthers, 3-2. Malkin's two assists gave him the NHL's scoring lead. ConkBlock is now 16-4-3, and pretty much deserving of Vezina consideration, as completely fucking improbable as that is. And now Jesus Crosby is skating again, too. As a Devils fan, I really should despise the Penguins with the sort of intrinsic hatred Ron Paul has for the Department of Education. Yet before I realize it, I'm drinking their milkshake when I write about them. It's kind of like when "Crank That (Soulja Boy)" comes on the radio, and suddenly you realize he's on his 53rd "Soulja Boy off in dis hoe" and you haven't changed the station yet. Ah, well ... Ulfie says "WHAM":
The Western Conference Clusterfuck. Eight points separates the No. 3 seed in the West from the No. 11 seed. Last night saw the Sedins activate their Wonder Twin powers to steal a point from the Wild for Vancouver; St. Louis, playing before a sellout crowd and a Buck Hunting/Cage-Fighting network audience, refuses to Commit to the Indian; Calgary gets two from Phaneuf and Iggy in a win over Phoenix; and J.P Dumont scores the game-winner for Nashville with 1:55 left to defeat Edmonton, 5-4. Only one way to celebrate that Preds' victory: Jason Arnott on the world's largest bidet:
Puck Headlines
* Just a note that all the hockey cards presented above are courtesy of my buddy Bruce and his kick-ass site, Get High on Hockey.
* Cool idea by the Edmonton Journal: Making a list of the Top 50 players of all-time based on where they finished in the Hart Trophy voting and how many Conn Smythe Awards they won. Your Top 5: Gretzky, Gordie, Mario, Beliveau and Orr. Jagr was the only active player at No. 9. I'm guessing Brad Richards just missed the cut. Yes, that was sarcasm. [Cult of Hockey]
* Toronto GM Cliff Fletcher on offers for Mats Sundin: "I've been offered some rowboats for a battleship." You heard him, rest of the NHL: If you want to impress the Leafs, better increase your seamen. [Canwest]
* NWA Hockey. Insert Jim Cornette or MC Ren reference here. [Local Rag]
* Inside Atlanta goalie Kari Lehtonen's "stylin' Finnish bachelor pad." Hot tub, video game room; sadly, no stripper pole, as Bobby Holik bent it in half during a post-playoff game performance of "Girls, Girls, Girls" last season. [AJC]
* I'm guessing any journalist who dedicates his career to chronicling every moment in Sean Avery's life is doing so solely to get within sniffing distance of his fingers. [MSG Network]
* Finally, it's Steve Levy, Bill Clement and a celebration of the next great evolution of the NHL uniform: The Fishsticks.