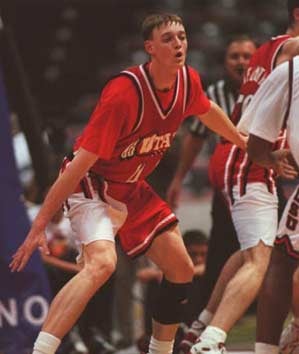 After the Jason Kidd trade finally went down — Mark Cuban says "this deal will have impact!" — the one question everyone had was ... Keith Van Horn's still playing? No, he isn't, which you probably know by now; he just never filed the papers. And now he's even richer than he was before.
To remind: he made $4.3 million for not filing his papers.
The Mavs and Nets needed Van Horn, whose new contract will pay him $75,439 per day over the final 57 days of the regular season, or $148,275 for each of the Nets' final 29 games. Before the NBA would approve the deal, league officials had to be convinced by agent David Falk and his client that Van Horn would report to New Jersey and make an honest attempt at a comeback.
See, now, that's a nice gig. We also have not filed our retirement papers and encourage any NBA team looking for salary cap relief to call us. We will make an "honest attempt" to make the team.
This completely screws up the ESPN Trade Machine, by the way. Being able to just sign random retired players for whatever amount you want is pretty difficult to simulate.
Jason Kidd Trade Good For Van Horn [St. Lake Tribune]
Doing The Deal And Dishing The Dirt [Blog Maverick]