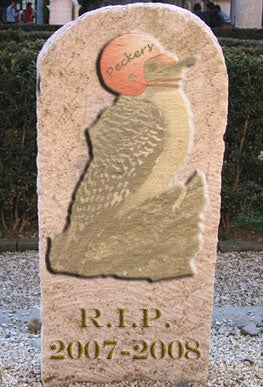 Last month, this very site raised your hopes with an Ohio minor league sports team being named the Peckerheads. Well, it brings me great pain to inform you all that such a team mascot will not happen.
The owners of Toledo's expansion minor league hockey and football teams have decided to give into the overwhelming feedback by its fellow citizens that the Peckerheads mascot is inappropriate, citing that dick jokes were meant to be shared between you and the Lord God. They're going to call the hockey team the Walleyes, and while they don't have a mascot for the football team, the general manager already ruled out the Woodpeckers, Peckers and Peckerheads. The story has no mention of explicitly ruling out Peckerfaces, Peckerbreaths, or the Ramblin' Peck:
"If we could push rewind, we would not have registered 'Peckers' and 'Peckerheads.' I don't think 'Woodpeckers' would've raised an eye brow. Given that we did [register 'Peckers' and 'Peckerheads'], people focused on those two names."
Shh, shh. Don't look back. Rather, look ahead to a time when this prim and proper world of minor league sports will tolerate — nay, embrace the Pecker as its beloved mascot with a loving fist, not an iron one.
Mud Hens Snag Catchy 'Walleye' As Moniker For Hockey Franchise [Toledo Blade]
Politician On A Mission To Rid Toledo Of Any And All Peckers [Deadspin]