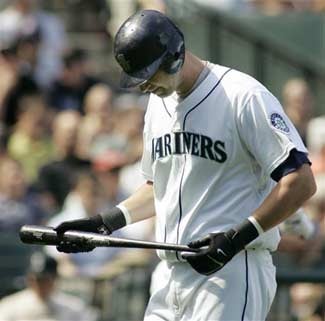 We couldn't let the day pass without mentioning Mariners "slugger" Richie Sexson's charming comments from yesterday. They're not as bad as Stuart Scott's "Don't boo" admonitions, but, well, they're close.
Richie Sexson just wants to make it clear that he wouldn't be being booed so much if he were making a piddly $1 million a year.
"The money has a lot to do with it," said Sexson, who will make $14 million this year. "If I was making a million, people wouldn't care."
Blog Hotdog & Friends points out, "while the quote masterfully demonstrates how clueless Sexson is as to the value of money, let me state that I will boo up and until he is making around $50,000.00 a year ( roughly the median household income in Seattle). At $50,000.00 a year, Sexson becomes an average Joe and I will not hate on an average Joe for a subpar work performance."
When we were in Seattle, someone told us about a beer special at a bar in which pints of lousy domestic beer costs whatever Sexson's batting average was at the time. Needless to say, it was the bestselling, cheapest beer around.
So, Sexson: Screw off, would ya?
Sexson Should Probably Stop Doing Interviews [Hotdog And Friends]