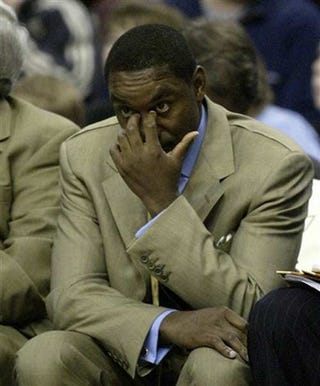 We know it was mentioned in the NBA Closer, but we really have to delve further into what happened with Isiah Thomas and the Knicks in Philadelphia last night.
We know the 76ers have been playing better, but the Knicks lost by 40 points. The 76ers fans were actually chanting "Fire Isiah" as a sort of healing chant; it's as if they actually felt bad for the Knicks.
Why did the Knicks play so bad? (They're 22 games under .500, the fourth-worst record in the NBA.) Because ... they're worried about being traded?
The "Fire Isiah! chants followed Isiah Thomas from New York. So did 48 minutes of wretched basketball. Even the excuses — this time Thomas blamed the looming trade deadline as a distraction — came with the Knicks' latest humiliation.

The Knicks had turnovers on almost every possession in some stretches, took bad shots and trailed by 46 points in the third quarter.
That's kind of brilliant: A last-place team distracted because they're so excited by the possibility of being traded from the last-place team that they can't help but play terrible. May the Isiah Thomas Era never, ever end.
'Fire Isiah!' Chants Follow Thomas To Philly [The 700 Level]