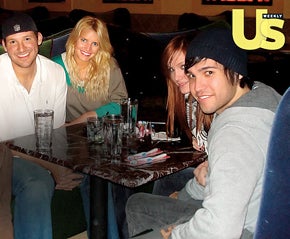 Sure Jessica Simpson may have been a distraction to the Cowboys this past season; the only thing standing between the franchise and a Super Bowl championship (tries to suppress gales of laughter). So to ensure a healthy and successful 2008 season, Tony Romo should dump her, right? Well here's a solution you probably didn't consider, Cowboys fans. He could marry her! I now take you to Us Weekly, where frankly I get all my scoops:
Jessica Simpson is head over heels in love with Dallas Cowboys quarterback Tony Romo - and close pals say an engagement might be around the corner. "I think they're going to get married," Romo's close friend of three years, Michael Starr, says in the latest issue of Us Weekly, on newsstands now. Starr's prediction comes on top of Romo's former fling Sophia Bush telling Us, "I think they could go the distance."
You know what this means; no more Mexican vacations, no more pink Cowboys jerseys, no more fun of any kind. Just kids running amok, toys scattered throughout the living room and Jessica in house slippers, 30 pounds overweight and smoking a butt. Cowboys fans, you're home free.
Tony Romo And Jessica Simpson Getting Married? [SportsbyBrooks]