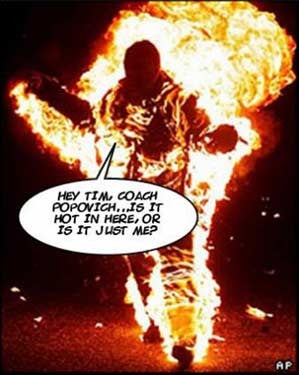 The NBA Closer is written by Matt McHale, who really wishes that TNT didn't schedule the Thursday night games so far in advance. When not falling asleep during Heat/Rockets games, he can be found blowing off steam at Basketbawful. Enjoy!



• Flame on! After watching Manu Ginobili score 44 points and hit the game-winning jumper from the top of the key with 6.2 seconds left to beat the Timberwolves 100-99, Spurs coach Gregg Popovich was so excited he could barely yawn. "Manu is a top caliber player. He's been on fire for a while now." Well, domo arigato, Mr. Robo-vich. I guess winning four championships in nine years has kind of desensitized him to last-second regular season wins against crappy teams. It makes you wonder whether anything excites the guy anymore. Can you imagine him trying to coax a little somethin' somethin' out of his wife? "You are a top caliber wife. You have been very sexy for a while now." Okay, thinking about Popovich having sex just took me to a very disturbing mental place. [/shudders] Okay. Anyway, Ginobili was kind enough to diagram the game-winning play for anybody who isn't familiar with his moves. "I always like to get to the rim, but [Randy] Foye took over my left pretty good and my counter move is always step back right." Take note, NBA defenders. Tim Duncan contributed 24 points and 14 rebounds for the Spurs, who recently got even older - and I didn't think that was possible - by acquiring Kurt Thomas.
• And how exactly is a 9-42 team supposed to play? Watching the Heat play the Rockets was decidedly not fun, but even less enjoyable was listening to TNT announcers Dick Stockton, Mike Fratello, and Reggie Miller try desperately to sell the lousy game to their national audience.
"The Heat have cut the lead to 14! They're very much in this one! They sure aren't playing like a 9-41 team!" I was half expecting Mike Fratello to start begging, or maybe for Reggie Miller to promise a signed copy of I Love Being The Enemy to everybody who managed to sit through - and stay awake for - the entire game. The Heat got outscored 41-26 in the first quarter and were down by double digits for most of the game before eventually succumbing to a 112-100 loss, their 10th straight defeat. Said Shawn Marion: "We dug a hole that was too deep and it is hard to come back. We had to exert so much energy in the comeback and we ran out of gas." Welcome to Miami, Shawn! Meanwhile, the Rockets described their 10th straight win as "bittersweet" due to the trades that sent locker room cancer Bonzi Wells and Mike James to New Orleans for Bobby Jackson and Kirk Snyder to Minnesota for Gerald Green. "We've lost a couple guys that were well-liked around here," said Rafer Alston. "But hey, that means more shots for me, right? So it's all good." Tracy McGrady scored 23 points and 10 assists for Houston, who also got 21 points and 9 rebounds out of Ming the Merciless. Dwyane Wade, who just really wishes the season would end already, had 33 points and 11 assists for Miami.



• This was not what the schedule makers had in mind. Several months ago, it looked like this game was going to be a battle between the two leading Rookie of the Year candidates. Instead, it was former ROY Brandon Roy showing Kevin Durant how it's done by going for 19 points, 5 assists, and a career-high 14 rebounds to help the Trail Blazers end their five-game losing streak with a 92-88 win over the SuperSonics. LeMarcus Aldridge helped the Blazer cause by dumping in 18 and 12, while the Sonics got 20 points out of Durant and a near triple-double out of Earl Watson (15 points, 8 rebounds, 9 assists). Said Seattle coach P.J. Carlesimo: "Our guys played really hard and really well, but just not hard enough." I think he should just issue that statement every game.



• 1, 2, 3...pass the trash! Part of me wants to say, "I can't believe the Bulls tricked the Cavaliers into taking on Ben Wallace's contract." The other part of me wants to say, "I can't believe Chicago agreed to take Larry Hughes out of the Cleveland chum bucket." But if you think about it, the Cavs get a defensive big man with championship experience. Who cares if he's aging so fast he might be a pile of dust come playoff time? And the Bullies get a volume-shooter who's hitting 37 percent from the field this season. But, you know, at least he's taller than Ben Gordan.