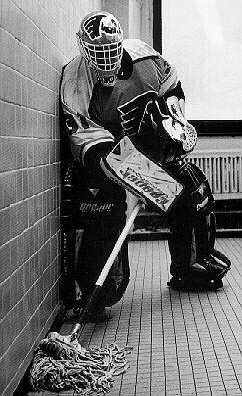 The NHL Closer is written by Greg Wyshynski, of FanHouse and The Fourth Period. He is also the author of Glow Pucks And 10-Cent Beer.
Zero victories in nine games and, as of this morning, out of a playoff berth. Simon Gagne done for the season after a concussion. (A concussion? For a FLYER?) Derian Hatcher jumping into aquarium shark tanks. Buffalo fans pointing and laughing at $10 million for a minus-24 from Danny Briere. Flyers fans venting their frustration in every desperate way imaginable ... like claiming their coach resembles former NJ Gov. Jim McGreevey. ("that's all. i hate him too much for words but he def looks like him.") So, yeah, things could be going better in Philly right now, which begs the question: Are the Flyers crazy enough to do something stupid at the trade deadline (or vice versa)?
"It's pretty much rock bottom now," said Flyers captain Jason Smith after last night's 3-1 loss to San Jose, which only proves Smitty wasn't in Philly last season. If you're one of these Moneyball-lovin', book-learnin' stat-heads that believes numbers always tell the story, then the fact that the Flyers failed to earn a single power play against the Sharks last night speaks volumes about their lack of desperate measures in these desperate times. But I believe it was that great hockey philosopher Stephen Colbert who once said, "We are a nation divided between those who think with their head, and those who know with their heart." And in my heart I know that this death spiral could be a good thing for hockey fans, because it might force the Flyers into doing something really balls-out wacky at the deadline. Missing the playoffs would simply be a continuation of the personal hell they burned in for most of last season. It is not an option.
Then again, as The 700 Level wonders, maybe this is really all the Flyers need to turn things around.
"Hey Clarissa...Do You Want To Play Battleshits?" Nashville lost a critical Western Conference game last night to Vancouver, 3-2 in the skills competition, but who really gives a rat's ass about that when there's more important news to report: The Free Taco Promotion Has Been Saved!
For years, if Nashville scored at least five goals, all fans in attendance won a free taco from Taco Bell, prompting chants of "We want ta-cos! We want ta-cos!" at games. But the Bell cut ties with the team last summer because it didn't appreciate how the promotion was being treated by the old ownership regime. New owners, new community outreach, and the promotion returned quickly. Not as quickly as that Grilled Stuft Burrito passed through my digestive tract after I drunk drive-thru'd following Will's book signing last night in DC, but quickly nonetheless.
Of course, we all know this was just a slick ploy to get more celebrity fans for the NHL like Heidi and Spencer from "The Hills":
OK, Here's the Deal. As of this morning, the Blue Jackets (!) are leading the race to land Tampa's Brad Richards; the Minnesota Wild want Olli Jokinen, and the Panthers might be willing to deal him there; the Penguins, who beat the Habs last night, 5-4, and watched Malkin continue to push for what was Ovechkin's Hart Trophy about two weeks ago, could be looking to deal Jordan Staal to the Blackhawks (keep Toews and Kane away from those Staal Bros. parties!); and the Canadiens are looking to trade for the rest of the league. You know, it's going to really suck on Tuesday when all of these deadline rumors turn out to be bullshit, and the biggest name moved is Karel "Fucking" Rachunek.
Puck Headlines
* MYFO scalawag and master Leitch impressionist Raskolnikov offers an inside look at Ovechkin's first date with his lady friend, giving the world this line: "Yes, yes, I calls sometime. But right now my pantz is highsticking." [MYFO]
* While Versus should get puckhead points for placing Brett Hull's name inside the crease in its new commercial, America's Buck Hunting/Cage Fighting Network needs a serious hockey history lesson. [Going Five Hole]
* ESPN declares war on Mats Sundin; Leafs fans answer with the hockey equivalent of "are you telling me Jesus Christ can't hit a curve ball?" [CoxBloc]
* Capitals fans reject the shootout. Look, I know sometimes my criticism can be a little muddled and muted here on the Closer, so you might not fully understand how much I feel the skills competition has reduced the most exciting team sport in the world to a parade of individual tedium. Please allow me this moment of Jersey-bred candor: Fuck the shootout. Fuck it up its stupid ass. [Bettman Hates Hockey]
* Finally, in case you haven't seen this yet (and if you have, you're going to watch it again anyway): "GO KIIIIIIIIIIIIIIINGS!" WHAMMMY!"