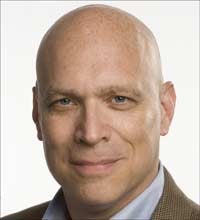 This is Gary Belsky, editor-in-chief of ESPN: The Magazine. We don't mind ESPN: The Magazine that much; it's a little too "look at what THIS athlete loves!" for us sometimes, but they've got some quality writers over there who appear to be under the age of 50. And now they have a blog, with a post from Mr. Belsky himself.
He says he finds blogs mostly boring, which we can understand around here, particularly on Fridays. But mostly, he just reveals his 27 favorite sports, a list that, oddly, doesn't include college basketball. (But surfing is on there!) But we were more taken aback by this:
Leeds United, my favorite team since I roomed with a guy from that Midlands city in 1979, has been relegated to the third division, making them the Arizona Cardinals of British football, which is cruel irony since I am also an Arizona Cardinals fan in American football.
Holy crap, the EIC of ESPN Mag is a Buzzsaw fan?! That's our schtick, man!
Truly, the media takeover by Buzzsaw fans has begun. Expect to see a whole lot of Deuce Lutui over the next few years, people.
BREAKING: ESPN THE MAGAZINE EIC RANKS ALL SPORTS IN INAUGURAL EDITOR'S BLOG POST [ESPN]