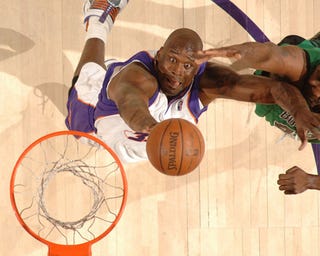 The Big Saguaro couldn't quite keep up with Phoenix's offensive pace, but he had his way under the boards. Shaq's four point (1-5 from the field) performance was offset by 13 defensive rebounds (14 total) and he even looked rather spry at times in his 26 minutes of play. Amare scored 28 with Grant Hill adding 18 points and 13 rebounds. Boston's star shooting tandem of Ray Allen and Paul Pierce combined to shoot a smooth 20%. Phoenix bested Boston, 85-77.
• Salim is God. My boy Salim Stoudamire finally got a little bit of burn and he responded with 18 points in Atlanta's win over the Warriors. The backcourt duo of Baron Davis and Monta Ellis hit up the Hawks for 61 points but the Hawks got the 117-110 victory.
• That's a shitload of bench points. J.R. Smith blew up to the tune of 43 points off of Denver's bench but Chicago's blistering shooting won out in the end. The Bulls, led by Ben Gordon's 37 points (also off of the bench), shot 57% from the field and finished with seven players in double figures. They topped the Nuggets 135-121.