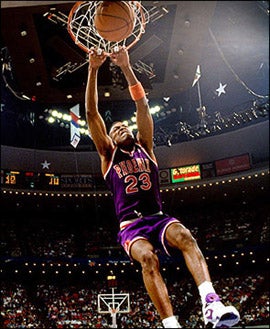 Back in 1994 a truly epic album was released to an eager public. If you aren't familiar with Immortal Record's B-Ball's Best Kept Secret then get ready for an extensive education. Over at Mental Floss they've taken it upon themselves to review the standout tracks from the All-Star lineup of NBA rappers. My favorite was definitely the great Cedric Ceballos.

You may remember Ceballos for his blindfolded jam to win the 1992 NBA Slam Dunk Contest. One listen to this song, though, and you will always think of him as a poor man's Nate Dogg. Or Nate Dogg with a cold. Here on "Flow On," Ceballos even enlists frequent Nate Dogg collaborator Warren G. to handle production duties and back up his rhymes. The result is what you'd expect: a bland G-funk beat with female backing vocals encouraging Ceballos to "flow on" while he lets us know how smooth he is while eating chicken wings.

Continue after the jump for Cedric's transcendent music video.
Bitchin'.