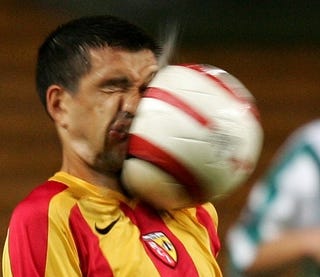 I love this photo with every fiber of my being. Thank you, Meaningful Collateral, for making this day complete. However, there is also a rather amusing post that goes with it. For all of you job seekers out there: Your long search is over! Details follow:
From the Jobs Abroad Web site:
Description: We are looking for people to attend soccer matches in Kazakhstan to provide a live commentary for us for the duration of games. We will need people to cover games from footballs stadiums in the domestic league, international games, youth international games and also women's internationals. The successful candidates will be professional and reliable, live within 1 hour of the relevant stadium and be available to cover all home matches of their local team/s.
Here's the best part:
Experience Required: no
Sean Salisbury can be on a plane in an hour.
Just In Case You're Hanging Around Kazakhstan With Nothing To Do... [Meaningful Collateral]