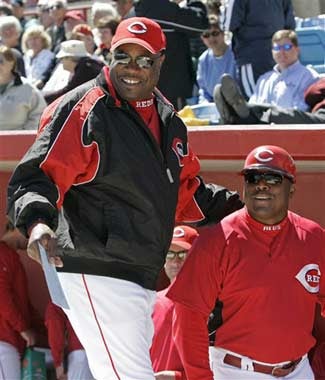 We think this is the last piece of business we missed during vacation, but it warrants mentioning. We've all kind of missed Dusty Baker from the Major Leagues, haven't we? It just wasn't the same without him and his toothpick in the dugout. (We also missed the epic hit-batsman-brawls that inevitably pop up when he and Tony LaRussa manage against each other.) He's with the Reds now, and he's dispensing his signature brand of Zen wisdom.
As originally pointed out by King Kaufman of Salon, Baker told the great Hal McCoy how he makes his major lineup decisions as a manager. It's a complicated process.
Baker said he sometimes sits in his office staring into space, pondering and pontificating over things of this nature, "And sometime I just sit here and nothing comes."
Oh, yeah: Pontificating. That's it. That's what he's doing.
By the way, Homer Bailey's arm is going to be a shredded noodle by midseason. Enjoy, Reds fans.
Who's 1, Who's 2? [Dayton Daily News]