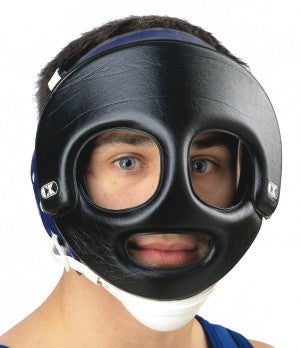 My first question before ordering one of these is, does it come in teal? Deuce of Davenport found this in a wrestling supply catalog, but I imagine that it could also come in handy on the basketball court, or just in the schoolyard to fend off bullies. Although there's always the danger of your head being used as a tetherball for the duration of recess.
Designed to help protect against facial injuries. Total padding on both sides. This competition model can be used in meets when there is documented evidence of injury. Now designed to fit all Cliff Keen headgears, (not included) and chin cup assembly (included).
I don't know why, but I'd wear mine while gardening.
Cuvo's Wrestling Warehouse
Wear This Mask And Get Swiftly Beat Down [Deuce Of Davenport]