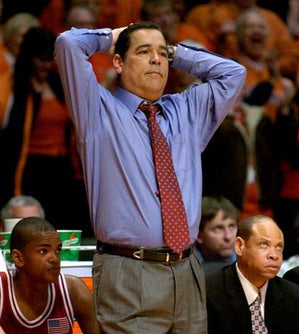 The Spurs, already with one disgraced college coach at the helm of their D-League team, have brought on Kelvin Sampson in an advisory role. Maybe he give them some tips on 'roiding, as Steroid Nation questions whether he was showing telltale signs of a juicer.
We demand Kelvin Sampson submit to a urine test for steroids. Why? After reading this report in the Evening Telegraph we understand that steroids may induce the psychotic sending of hundreds of text messages.
Well, no wonder Bonds hasn't signed with anyone. Some enterprising GM needs only send him a "1YR DL 4 LEEG MINMUM"