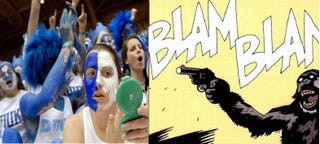 The night before the series finale of The Wire, it's great to be treated to the whitest spectacle in college basketball, UNC versus Duke. The ACC regular season title is on the line for the fifth time in the series' history, which means the Cameron Crazies will have their rote chant sheets ready with all sorts of biting apercus to shout at Tyler Hansbrough. What were their thoughts last night when Coach K enjoined them to "concentrate on winning and being creative and supportive of our team." Video of Ratface's pep talk after the jump:
If Big Daddy Drew is to be believed, that's a subtle dig at the Jews! Right? Right?
Naturally, one must be on their best behavior when the Brothers Manning are expected to be in attendance.
Enjoy the game and go meteor.