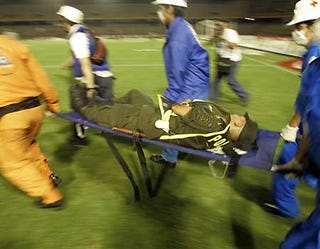 There was a bit of a scrape at a Colombian soccer game yesterday that left, oh, 18 people with stab injuries among the 80 injured. And Ray Lewis was only responsible for two of them.
Police fired tear gas as the brawlers lit firecrackers and tried to tear down fencing separating the stands from the field.

Eighteen people were stabbed during the melee, said Manuel Infante, spokesman for Cali's Emergency Prevention Committee. They were treated at the stadium and taken to a local hospital. Another 60 suffered bruises and other minor injuries.

A young pregnant woman and three police officers were among the wounded, the Red Cross said.

Tensions flared over referee Wilman Roldan's decision not to call a penalty kick against Cali. America protested the no-call, players traded blows on the field and America coach Diego Edison Umana got into the fray, elbowing his Cali counterpart Daniel Carreno.


Over a bad call? This could have happened at a few Pac-10 games in the last couple days. It did happen in the Colombian city of Cali. Coincidence?
Anyway, we apes can sympathize.