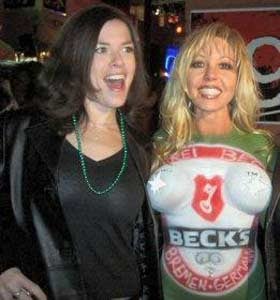 Since tedious analysis is the stuff of "power rankings," each Monday NHL Closer writer Greg Wyshynski uses a form of universal expression: Success in terms of beer. Before we get to a soul-crushing rookie mistake for the Capitals, welcome to The Brewmeister Ratings...
Winner No. 1: San Jose Sharks. Remember all that stuff I said about trading Patrick Marleau because he's a worthless stiff in need of a change in scenery? Let's just say that if I were a Garbage Pail Kids card, my name would be "Ima Dumbass" and Marleau would be punching me in the face. Marleau won the skills competition over the Wild on Sunday, saved what would have been the game-winning goal in OT with a baseball swing at the puck, and has four goals and seven points during the Sharks' record nine-game winning streak. Oh, and don't look now, but Joe Thornton is third in the NHL in points (81) and is sneaking in late to the Hart Trophy party just like he did when he won it back in 2006. The Beer They'd Be: In honor of German-born Sharks defenseman Christian Ehrhoff, a shapely woman painted to look like a bottle of Beck's; which may not be German for beer, but did you know Bierleichen is, in fact, German for "beer corpses?"
Winner No. 2: New Jersey Devils. Zach Parise: Today you are a man, my friend. Five goals in three games during the conference-leading Devils' undefeated week, and his first NHL fight with Dan Boyle of Tampa on Friday night. According to one of the pugilist prognosticators at HockeyFights.com: "Pretty much a draw but great to see Zach drop them and not just turtle." The Beer They'd Be: One of the three-dozen or so Molsons Marty Brodeur drinks every week during the off-season to achieve his statuesque training camp physique.
Loser No. 1: Minnesota Wild. Reason No. 2,345,877 the Shootout Can Suck a Dick: Pierre Marc Bouchard's "spin-o-rama" move in the skills competition. First of all, he carries the puck back to center ice before the shot, which is illegal. More importantly: If there were an actual defenseman playing defense out there during the most critical moment of the game, Bouchard would have his ass handed to him on a platter for that video game bullshit. The Beer They'd Be: An empty can of Schlitz filled with Jacques Lemaire's furiously chewed bubblegum, as he watches his division lead evaporate during the Wild's four-game winless streak
Loser No. 2: Boston Bruins. In reality, the Bruins' had an OK week (1-2-2) outside of that prison rape at the hands of the Capitals last Monday. But I was in Boston over the weekend, got food poisoning from some oysters I ate at a pub, and I'm kinda bitter about it. The Beer They'd Be: Whatever Irish stout I backwashed into when I realized that 95-cent oysters at a random Boston pub may have, in fact, been a death sentence. Never buy shellfish for less than an iTunes download. That said: NHL Closer hearts Milan Lucic:
Nicklas Backstrom Plays for the Other Team. Again, if you've not seen Backstrom's own-goal for the Capitals yesterday against the Penguins, educate yourself. He was trying to sweep it to the back boards, but ended up putting it behind Cristobal Huet for the Penguins' third goal (which, in true salt-in-the-wound fashion, was credited to Crosby). Ovechkin's reaction is that of a man who's scored 54 goals just to see some dumb Swedish kid that Bryan McCabe'd the Caps' playoff hopes away against Malkin's team. (Hey, at least he didn't celebrate after scoring against his team like that Japanese guy.) Japers ran the numbers and even if Washington goes on its best run of the season, it might be too late. So while some Caps fans are wondering why the Baby Jesus let Satan and Beelzebub roam free on this earth, the Pensblog congratulates Backstrom on his fourth game-winning goal of the season:
The Lid Is Back On. Stat 'o the Day: Detroit averages 3.2 goals per game with Nicklas Lidstrom and just 2.3 without him. To think that a defenseman can have that kind of impact on an offense is pretty mind-blowing. The Norris Trophy winner-for-life returned in yesterday's 4-3 win over Nashville, as the Wings appear to have weathered that late push from Dallas for the Campbell Conference lead. They also contributed to Operation: Don't Let the Predators Ruin It for the Rest of Us, although Phoenix and Chicago aren't exactly holding up their end of the deal. By the way: Nashville's David Legwand missed the Detroit game with a bruised foot. I hope it wasn't the one on his DUI side...
Puck Headlines
* The fact that the Ducks swept the Northeast Division and went 8-2 against Eastern Conference opponents does not inspire confidence that the Wales Conference champ will receive anything more than an ass-kicking in the Stanley Cup Finals. [Ducks Blog]
* Remembering Nik Zherdev's game-winner for the Blue Jackets against Tampa Bay...in reverse. It's actually much more entertaining backwards, like "Memento" or that Jack Johnson video before that surfing blockhead's wafer-thin music became inescapable. [The Long Family]
* "As many know, I have a fetish for vulcanized rubber decorated with artwork." I had to double-check to see if this guy was a classic puck collector or Joel Schumacher. Seriously, I'm only paying $300 for a puck if it hit Danny Briere in the face. [Puck Junk]
* Look, we all love Sean Avery here, and appreciate his value to the Rangers. But if Glen Sather actually rejected a trade straight-up for Steve Bernier, then he's dumber than Sean Avery looks. [NY Post]
* Finally, the NHL needs to take its thumb out of its ass and realize that tasteless taunting and brutal embarrassment of opponents are hallmarks of hockey fandom. Tampa Bay wasn't too pleased that the folks in Philadelphia replayed Riley Cote's smackdown of Andre Roy on the Jumbotron during the game last week. Or as Broad Street Bully subtly put it: "YOU ARE PUSSIFYING THIS SPORT WITH THIS TYPE OF BS. KEEP THIS SISSY SHIT IN THE LAW LIBRARY." Seriously, I could watch this all day, and I'm a Devils fan: