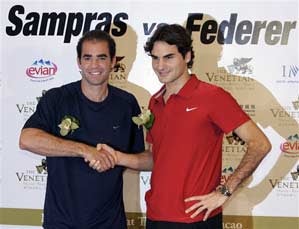 With baseball just a few weeks away, Selection Sunday just around the corner and the madness that is the NBA Western Conference, what better time to check in with ... tennis!
OK, so maybe our tennis coverage has been lax around here — though we might never love a story more than the Andy Roddick Is Scared Of Enormous Rabbits Story — but tonight, we're going to attend our first ever in-person tennis match. (Actually, we saw an early-round U.S. Open match in Queens one time, but we don't remember it. Lots of booze in Queens.)
Anyway, tonight Pete Sampras is playing Roger Federer at Madison Square Garden, and we'll be there, in the very upper deck. What's better than tennis from the way upper deck? Maybe they'll let Isiah play. Sampras is just old enough, and a big enough name, to play small forward.
The general idea of these matches is fake, but still fascinating; the two best players of the last 30 years, battling it out, pretending age ain't nothin' but a number. We bet Federer takes it easy on him, but that won't make it any less fun. Theoretically.
Making Up For Lost Timeless Matchups [New York Times]