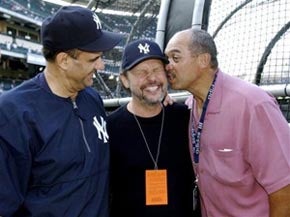 If I were a Yankees' fan, I'd be really worried right now. Their season is beginning to shape up like a failing TV sitcom; the kind in which they try to bolster sagging ratings by bringing in celebrities for guest appearances. With that in mind, please welcome Billy Crystal, who will play in a spring training game for New York on Thursday. Even though he's, like, 60, and would probably die of exposure if left in the infield for more than 20 minutes.
The actor will sign a one-day, minor league contract with the New York Yankees and play in Thursday's exhibition game against the Pittsburgh Pirates. Crystal, an avid Yankees fan, will work out with the team on Wednesday and will wear uniform No. 60 for the game — to be played one day before his 60th birthday. The Yankees said Monday they have the approval of baseball commissioner Bud Selig.
Yankees' manager Joe Girardi, of course, doesn't believe that violent collisions at the plate have any place in a spring training game. But Buddy Young Jr.? Sure! Grab a bat!
And you thought that Selig was brain dead. Ha! Shows how much you know. Turns out it was only mostly dead.
Billy Crystal To Play Exhibition Game With New York Yankees [USA Today]