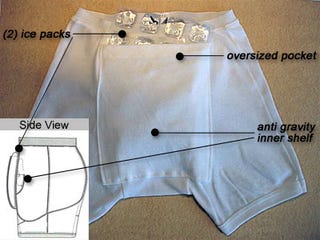 For those of you who are planning to take advantage of that NCAA Tournament vasectomy special we mentioned over the weekend, you're surely gonna need a pair of these for your recovery period. I own several pair, and I'm not even considering surgery.
What I'm saying is that once you've tried VasoWear, you will never again wear briefs that don't have the patented "anti-gravity inner shelf." I swear by them.
Man, if only Eliot Spitzer had been aware of the ice pack feature.
Go From A 16 Seed To A No Seed [Deadspin]
VasoWear: Post-Vasectomy Garment Cradles Your Boys [MedGadget, via Dave Barry Blog]