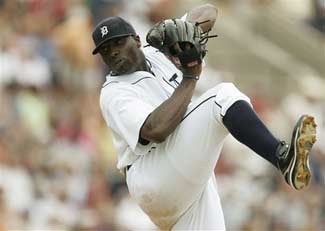 For the third consecutive season, we are proud to introduce the Deadspin Baseball Season Previews. Yes, baseball is awfully close now; it's spring training, after all.
Every weekday until the start of the season, a different writer will preview his/her team. We asked a gaggle of writers, from the Web, from print, from books, to tell us, in as many or as little words as they need, Where Their Team Stands. This is not meant to be factual, or dispassionate, or even logical: We just asked them to riff on why they love their team so much, or what their team means to them, or whatever.
Today: The Detroit Tigers. Your author is Ben Mathis-Lilley.
Ben Mathis-Lilley is an editor at New York magazine. His words are after the jump.
————————————————————
In my mind, last year's parallel-universe Tigers season did not end with a fade into September irrelevance. Parallel Universe Gary Sheffield and Kenny Rogers didn't get hurt, while Parallel Jeremy Bonderman mastered his early-inning control problems and nagging elbow injury. Parallel rookie call-ups Andrew Miller and Cameron Maybin excelled, Parallel Brandon Inge's August wasn't one continuous strikeout, and Parallel Universe Curtis Granderson outdid his real-universe's 20/20/20/20 season (HR, 2B, 3B, and SB) with a 40/40/40/40/40 effort (that last 40, unfortunately, is for DUIs. For some reason, Parallel Granderson is a real a-hole.).
The Tigers weren't quite good enough last year in the here and now; fortunately, the offseason couldn't have been better no matter which universe it occurred in. Things did look grim, at least through my Baseball Prospectus-colored glasses, when trades for Jacques Jones and Edgar Renteria had the team heading toward a Giants-like squad of seasoned veterans savvily winning 75 games. (Just imagine if the Giants make the playoffs sometime. So much post-season experience! Some of it dating back to the 1930s! Joe Morgan will lose his goddamn mind!) The pursuit of Alex Rodriguez, in which the team was commonly referred to as a "dark horse suitor," went nowhere, probably because "dark horse suitor" sounds like a euphemism for "marauding rapist."
But then, lo, the Chosen Dombrowski delivered unto us Miguel Cabrera — a 25-year-old, saner version of Alex Rodriguez — along with a free bonus portion of Dontrelle Willis. In the glorious light of THAT deal, I even embraced the savvy seasoning Jones and Renteria would bring to the team. The only winter downer occurred when Joel Zumaya, the man famous for a Guitar Hero finger injury, hurt his shoulder moving storage boxes out of a family home in the path of a wildfire.
Despite that disappointment, Tiger fans' expectations are high right now. Tickets went on sale last Saturday, and I heard there were lines around the block at Comerica Park for at least five hours after the box office opened. And you know what that kind of popularity means: It's only a matter of time before all the longtime fans start getting priced out by bankers. Detroit being what it is, there aren't any indigenous bankers to do the job; they'll have to be shipped in from out of state, which means this could actually trigger the long-hoped-for Michigan economic revival. I suppose that would be a positive on the whole; in any case, though, the window is closing on seeing the team at a reasonable price.
So get in while the gettin' hasn't been "arbitraged"! The time is obviously now for this team anyway. The only things people are really worried about are the bullpen and the possibility that pre-season hubris tempts the gods to inflict a horrible catastrophic punishment. (And I guess Pudge Rodriguez's decline. But I gave up on that guy three years ago when he bailed on the season to spend time on his huge boat, and then selfishly failed to spend that time apprehending Somali pirates. To those whom much is given, much is required, Pudge.) As far as the bullpen goes, whatever. Being able to be critically discuss the weaknesses of your favorite teams is important. It lends a needed element of rationality to the act of rooting for strangers. So if that is the only weakness we have to discuss, I am all about spending July and August writing 2,000-word e-mails about Yorman Bazardo's BABIP. And on the matter of tempting fate.... I regret to say I'm NOT doing my part; in fact, I'm thinking of getting a Tigers Old English 'D' tattoo. Now, you might say, well, what if the Tigers go on another 20-year ass-sucking binge? To which I say, did I attend multiple Tigers games during a season when Randall Simon was named team MVP? I did.
So I can't see any way I won't continue to like the Tigers indefinitely except a scenario involving the following things: flying railroad spike, brain damage, altered personality, appearance in Oliver Sacks New Yorker story. Anyways, I'm either getting an Old English 'D' or a rendering of Nalfgar, the mythical Viking ship made from the fingernails of the dead. So isn't a 'D' the prudent choice here?
In summary, there is no way the Tigers won't sweep the World Series this year. But there is one bad thing that will certainly happen: Zumaya will hurt himself. So let's end with a poll: what's it going to be this time?
Gawker Media polls require Javascript; if you're viewing this in an RSS reader, click through to view in your Javascript-enabled web browser.
Readers, let your voice be heard!