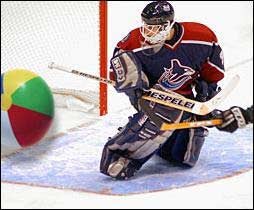 The NHL Closer is written by Greg Wyshynski, of FanHouse and The Fourth Period. He is also the author of Glow Pucks And 10-Cent Beer.
There are different types of pathetic, consistent losers. We root for some to reverse their fortunes, like when the Mets went from monstrosity to miraculous in the 1960s. We gleefully dance on the graves of others, like seeing bow-tied doofus Tucker Carlson get cancelled for the 700th time this week on cable. Then there are those I believe can be called "The Joey Harringtons": Train-wrecks of squandered potential whose sudden resurgence provides a perverse and ironic kick that ends as quickly as it begins. Dan Cloutier is a Joey Harrington; the kind of player who requires his own disaster preparedness kit, but one that nearly shocked the world last night.



Cloutier's journey from starting goalie in Vancouver to oft-injured, big-money bust in Los Angeles would be tragic if it weren't so damn funny. Many players have been chased out of town by surly fans that are so certain of that player's inferiority that they begin Photoshopping beach balls behind his picture. Rarely does that player then validate that assessment by crapping the bed in his next tour stop. And Cloutier hasn't just crapped the bed in L.A.: We're talking a Spud shitting himself in "Trainspotting" level of fecal expulsion. Wot a mess!
Cloutius Maximus faced the Canucks last night for the first time since they traded him two years ago. He made 13 saves in the first and then 13 more in the second. The Kings gave him a 1-0 lead on Patrick O'Sullivan's goal at 8:27 of the third ... and then Ryan Kesler scored with 2:41 left to tie the game, winning it in OT for Vancouver with this second goal. Cloutier made 38 saves, even if he had more rebounds than Marcus Camby last night. But for one fleeting moment, Cloutier stopped being a joke and nearly got back to doing what he's always done best: Crippling Vancouver's Stanley Cup chances.
Iggy! Iggy! Iggy! The Rangers' 3-2 win over Buffalo last night was a perfect storm of depressing news: A game-winning goal for Scott Gomez, in a skills competition, in a game where Buffalo somehow managed to lose even more defensemen to injury. Sheesh...where's Rory Fitzpatrick when you need him? So let's look at the bright side of life: Jarome Iginla is now the all-time leading goal-scorer in Calgary Flames history, scoring his 365th goal on a power play, in his 847th game and on his 2,742nd shot. To put this in the proper perspective, this is 365 more goals than Wade Belak scored during his three-year tenure with the Flames. Iginla passes Theo Fleury in goals; Fleury still holds the team record in keg stands.
The 7-3 win over St. Louis — which also featured Miika Kiprusoff earning an unsportsmanlike conduct penalty for throwing a puck and hitting Martin Rucinsky in the nose — put Calgary back on top of its division. Iginla, meanwhile, is third in the NHL in both goals and points. If the Capitals miss the postseason, I think that kills Ovechkin's bid for the Hart Trophy. Can Iginla earn enough support to overcome players like Malkin, Lidstrom and now Joe Thornton for MVP? And if he does, what generally retarded headline will the Calgary Sun choose to ruin that momentous occasion? Because the bar is now pretty high:
Karma Is a Bitch. Empty Netters has the Classic YouTubage of the day in the following video, which chronicles a bizarre turn of events between Stevie Sullivan - Blackhawks then, Predators now - and a heckler in Denver. For the uninitiated: Sullivan takes a stick to the face that cuts his nose, and a fan heckles him through the glass as he skates to the bench. Later in the game, Patrick Roy clears the puck over the glass, hits the same fan in the forehead, splitting him open. Sully fills in the details, complete with highlights:
Puck Headlines
* Never ones to let the Yankees grab the spotlight for more than a minute, the Red Sox are lobbying the NHL for a home-and-home outdoor series between the Rangers and Bruins at The House That Torre Rebuilt on Jan.1, 2009 and at Fenway the following year. Which really isn't sitting well with the Islanders. [Newsday]
* The new Versus slogan for the postseason: "I Am the Stanley Cup Playoffs." Sure beats "Something We Throw on Between Buck Hunting and Our 2,000th Showing of 'Road House' This Week." [The FanHouse]
* Is it time to send Capitals' goat Nicklas Backstrom to Bryan McCabe's "School For Kids Who Can't Handle The Puck In Front Of Their Net Good?" [Hockey Blog in Canada]
* In case you haven't come across it yet, this article about the NHL's loud-mouth pest elite is a must-read. Not only for Sean Avery-esque smack jabs like "Are those your teeth or is your tongue in jail?", but to read cranky old man Doug Weight tell this next generation of trash-talkers to stay off his lawn by refusing to participate in the informal poll: "I'm not going to reward anybody on that junk ... verbal crap is part of the game, whether you like it or not. What the hell are you going to do?" Go grab your walker and watch a "Matlock" rerun, gramps. [The Province]
* Finally, Andre Roy's future with the Tampa Bay Lightning is in doubt, as the team asked him to take a leave of absence after he went fucking bat-shit in that two-fight game against Philadelphia last week. According to the St. Pete Times: "Roy jawed with the Flyers bench in the third period and made several throat-slashing gestures before being grabbed and pushed into his seat by coach John Tortorella." How redonkulous does a situation have to be when John Tortorella is a source of tranquility? Frankly, I'm shocked; Andre Roy doesn't look that intense, does he?