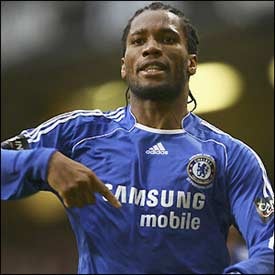 The ego of a professional athlete is a tender beast, to be massaged, stroked and caressed whenever necessary (and often when not). Fading Chelsea striker Didier Drogba is no different, but he's more of a Do It Yourself type of guy.
So, when Drogba saw that his jersey sales were lagging behind those of his teammates, he took matters into his own hands.
The 29-year-old, originally from the Ivory Coast, has reportedly spent thousands of pounds on replica shirts in a bid to try and convince his team-mates he is just as much of a crowd favourite as they are.One Chelsea insider claimed Drogba visits the club shop up to 10 times a week and on one occasion walked out of the store with 40 shirts priced at approximately £45 each, setting him back £1,800.

A Stamford Bridge source revealed: "Dids is never out of the club shop. He is spending a fortune. He is on first name terms with the staff and is easily their best customer."
We suppose this is the pro athlete equivalent of a fan buying a jersey with their own name on the back. Though we do hope that Drogba doesn't pull a Chris Henry and wear his own jersey while committing a crime. Of course, it's possible now that he has no other clothing.
Drogba Can't Buy Love, But He Can Buy Plenty Of His Own Jerseys [Lion In Oil]