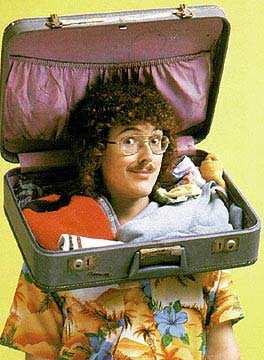 The NHL Closer is written by Greg Wyshynski, of FanHouse and The Fourth Period. He is also the author of Glow Pucks And 10-Cent Beer.
You are James Wisniewski. You are fourth in ice time among Chicago Blackhawks defensemen. Your team is fighting for its playoff life. So what do you do? Allow pesky Mikael Samuelsson to get under your skin, and then cross-check him to the head, earning yourself a nice, tidy match penalty for intent to injure and an inevitable suspension. And you do this in the first period, against the Detroit Red Wings, who went on to defeat short-handed Chicago, 3-1. Hawksfan10 of The 300 Level wasn't all that upset: "S'okay.. worth it for the cross-check to Faguelsson's trachea!" Yikes. All of this reminds me of a song lyric I once heard: "You can eat a bunch of sushi then forget to leave a tip/Come on and dare to be stupid!" Thus begins the "Weird Al" Closer...

I Am Not a Happy Devils Fan. See, this is the kind of performance that gives fans delusions of grandeur. Carey Roy Dryden looked impenetrable last night for Montreal, stonewalling the Devils, 4-0, to move the Habs into first place overall in the Wales Conference. Of course, the Devils played their part in that shutout, unleashing a flaccid power-play and unable to sustain enough pressure to rattle the kid. I don't want to say the Devils' power-play blows, but the last time New Jersey witnessed something this punchless was Michael Spinks's performance against Tyson in Atlantic City. I certainly hope the Devils' success hasn't made them happy and fat ... really, really fat.
How About a Little Something for the Effort? Last night's thrilling 4-3 win for the Leafs was the very definition of Toronto's "Operation: Cock-Tease." They pepper Marty Biron with 55 shots, they score three goals in the third to tie the game and then win it in overtime on Pavel Kubina's second goal of the night ... for a net gain of one point in the standings. "We're alive," said Coach Paul Maurice in a technically true but ultimately worthless statement after the game. The reality is that they're seven points in back of the No. 8 Flyers, and should be playing for the lottery. And they would be, if half their roster wasn't populated with prideful pig-heads who wouldn't waive their no-trade clauses. The bottom line is this: The Flyers and Leafs played 64 minutes of hockey last night without a fight. The rematch is tonight in Philly; I want to see the gloves drop, boys, or I'm sending "UHF's" Conan the Librarian to teach you all about "da Dewey dec-i-mal sees-tum!"
And the Rest of the Hack-tastic 'Weird Al' Jokes. Zdeno Chara sits at home in Boston, and Ottawa gets a hat-trick from Dany Heatley and a goal from Jason Spezza to beat the Bruins, 4-1. It's happy fun time for Senators fans, who may have finally found a starting goalie. Which is good, because this debate about Gerber vs. Emery was getting fussy, young man: "Don't want no Captain Crunch, don't want no Raisin Bran." Well, don't you know that other kids are starving in Japan? ... A desperate Phoenix team earned a huge two points against Anaheim, 3-2, to close within five points of the final playoff spot. Chris Pronger taking the last skills competition shot in OT? Sorry, but if I'm an Anaheim fan, I want a new Duck — not a quail or an owl. ... Finally, San Jose won its 10th straight game, 2-1 over the Predators. Jonathan Cheechoo assisted on Joe Pavelski's controversial clusterfuck-of-a-goal in the second, and has six goals of his own during this winning streak. Looks like he's finally found his game after double-hernia surgery in the off-season; an essential procedure, incidentally, because no one wants to be livin' with a hernia, let alone two...
Puck Headlines
* Erin Andrews and Jeremy Roenick. Boy, those two would have made some beautiful children that wouldn't shut the fuck up for 10 seconds. [Melrose Rocks]
* Breaking down the brackets for the Los Angeles Kings' March Madness-style tournament to determine their ultimate fan favorite. Mattias Norstrom vs. Adam Deadmarsh is like Kansas State and West Virginia in an 8-vs.-9 game in the Southeast Bracket. And I'm no bracketologist, but how the shit is Gretzky a four seed? Isn't he, like, Duke? Or is Marcel Dionne Duke?[Battle of California]
* Smacking down those seamheads that believe a hockey game closing Yankee Stadium is somehow disgraceful. "Nicholas Cage shot Snake Eyes at the Montreal Forum." Knockout! [Going Five Hole]
* "I am so sick of hockey being on my TV every night...My husband is a total fanatic, its almost sickening." Mom? [Desperate Housewife Brandi]
* Finally, we've got a streaker! OK, so he doesn't have the stones to go full monty, most likely because this wasn't a Euro soccer match and, quite frankly, because ice is cold. But it does appear that a half-naked man with an air horn is enough to cause a stoppage in play...