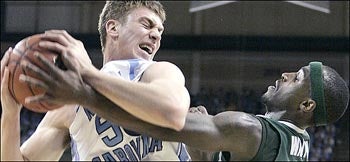 CBS Sportsline columnist Mike Freeman has taken issue with all of the media attention afforded to North Carolina's Tyler Hansbrough. So he wrote a column about it, and, as they say, hilarity ensued. It was a rather amusing rant by Freeman as he took aim at Dick Vitale, Sports Illustrated, and Bill Raftery. Let's listen in.
From Freeman's column:
The media loves Tough Whiteness, too. Never mind that college basketball is full of blue collar, intense African-American players with more desire than ability. And forget the fact that Hansbrough is an excellent, highly skilled athlete, more Larry Johnson than Rudy Ruettiger. None of that matters. The media sees the tough white guy with the bloodied nose, scrunched up face and Hannibal Lecter mannerisms and falls in lust. Bill Raftery is an admirable professional who is one of my favorites to watch. He's extremely talented, but during a timeout in one North Carolina game, he said "watching Tyler Hansbrough listen is special." What? No, seriously, what?
Please forgive me if I stay out of this debate and just continue eating this melba toast. I hate controversy. But I will say that Sportsline may be rethinking their little "Tell Mike your opinion" link below his byline.
Media Crazy (In Love) With Psycho T [CBS Sportsline]