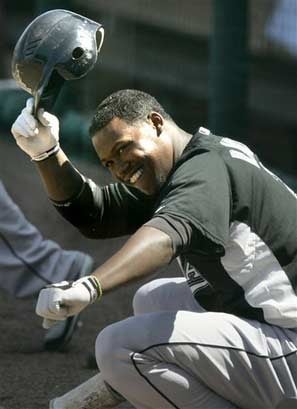 For the third consecutive season, we are proud to introduce the Deadspin Baseball Season Previews. Yes, baseball is awfully close now; it's spring training, after all.
Every weekday until the start of the season, a different writer will preview his/her team. We asked a gaggle of writers, from the Web, from print, from books, to tell us, in as many or as little words as they need, Where Their Team Stands. This is not meant to be factual, or dispassionate, or even logical: We just asked them to riff on why they love their team so much, or what their team means to them, or whatever.
Today: The Florida Marlins. Your author is Jacob Luft.
Jacob Luft is a senior editor at SI.com and blogs at LuftOnDeck.com. His words are after the jump.
———————————-
The Florida Marlins already have won their biggest game of the season: They succeeded in extorting a (mostly) publicly financed stadium from the city of Miami.
Set to open in 2011, the gleaming new facility will feature a retractable roof and all of the creature comforts we have come to expect from latter-day "mallparks." What it won't feature are any players who have — up to this point — ever worn a Marlins uniform.
Oh, there's an outside shot that stud shortstop Hanley Ramirez will be around in what would be his sixth major-league season, after which he could be eligible for free agency. But don't count on it. By then the Marlins would have had to lock up Ramirez to a long-term deal or absorb his arbitration-enhanced salary for three straight seasons. That would go against this ownership group's M.O. of trading players before they reach their walk years (see: Cabrera, Miguel; Willis, Dontrelle).
That's the only drama surrounding this franchise now that it has suckered the local politicians into playing the stadium game: Whither Hanley? The answer to that won't come till at least after this season, the kid's third and last before becoming arbitration eligible.
Now, I know this is supposed to be an homage to why I love my team, but it's hard to muster any enthusiasm — real or feigned — when the ownership gives us the finger at every turn. The breaking point for me was the Cabrera trade to Detroit this winter. The guy isn't even 25 yet and is crafting a Hall of Fame career. That's they guy you build around, not trade away. He isn't even set to hit free agency until after 2009, but Florida's owner decided he's rather buy a new Ferrari (no joke) than pay anything close to market value for a true superstar. Suffice it to say I'll be watching a lot of Detroit Tigers games this season.
Whatever happens on the field for the Marlins this year is irrelevant — they have already admitted as much by holding tryouts for a male cheerleading squad. The only people who should care to follow this bunch — inside or outside of Miami — are fantasy league owners. For their sake, I'll provide a quick rundown of who to draft. Please don't bypass any of these hitters because you are afraid they don't have enough "protection in the lineup." That's always been a bullshit argument. Good hitters will get their numbers in any lineup; for all the times they get pitched around, it's more than made up for by the fact that they will be on the wrong end of many blowouts, when opposing pitchers have no reason to avoid them.
Hanley Ramirez, SS. Since errors and defensive indifference don't matter in fantasy baseball, Ramirez is a top-five pick in any league. Take him before Jose Reyes. If you want to wait a little later and get Jimmy Rollins instead, that is perfectly understandable.
Jeremy Hermida, RF. The former cover boy of Baseball America's Prospect Handbook absolutely raked in the second half last season, batting .340 with a .956 OPS. It was no fluke; he's always had the talent but couldn't stay healthy. He qualifies as a sleeper in mixed leagues. PECOTA has him down for a batting line of .284-.380-.485. Look for him to exceed those numbers.
Dan Uggla, 2B. With the glove, he's got all the range of a fire hydrant. But he'll continue to mash with the bat. Look for a bounceback in batting average (he hit only .245 last year) and the same prodigious 30-home run power.
Josh Willingham, LF. I once asked a scout where the Marlins should play "The Hammer," since he was originally brought up as a catcher. The scout's answer: "Who cares? The guy can hit!" You're beginning to see why the Marlins had the worst defense in baseball last year: Nobody can field. No matter. Willingham's bat can play on any fantasy team.
Mike Jacobs, 1B. If he can stay healthy, he'll post respectable power numbers for a corner infielder. At 27, he should be entering his peak.
Kevin Gregg/Matt Lindstrom, RPs. Gregg is a good bet for at least 20-plus saves. Again, don't get sucked into the "lack of a supporting cast" garbage. If anything, you want your fantasy closer to play for a bad team — when they do win, it'll be a close game. Look at Bryan Harvey on the '93 expansion Marlins: 45 saves for a 65-win team. Lindstrom throws in the 100s and has closer written all over him. (Florida stole him in a deal with the Mets. As Nelson Munce would say, "Ha-ha!")
This is how the rest of the everyday lineup looks:
CF: Commander Cody Ross/raw rookie Cameron Maybin
C: Black hole
3B: Black hole
Those three spots will negate many of the positives coming from the fab five atop the lineup, most likely putting the Marlins in the bottom half of runs scored in the National League (Baseball Prospectus has them finishing 10th in the NL in runs).
The starting rotation is an injury-riddled mess. Scott Olsen is a feast-or-famine lefty who will strike people out but kill your ratios, and he already has come down with a shoulder ailment this spring. Ricky Nolasco could be back from injury and would make decent waiver-wire fodder, as would the talented Rick Vandenhurk. Sergio Mitre and Anibal Sanchez are fighting the injury bug. Blue-chip prospect Andrew Miller is a great pickup in NL-only leagues and for owners who have a rookie fetish. (You know who you are, you damn pervs.)
Unlike the 2006 Marlins, who flirted with the .500 mark fresh off the club's latest firesale, there isn't any mystery or romance with this bunch. They'll hit a little bit, won't play any defense and will churn-and-burn however many starting pitchers it takes to get through the season. The bullpen could be decent, but that hardly matters when nothing else falls into place.
When it's over, the biggest positive that will be said about 2008 for the Florida Marlins is that the year is, in fact, over. It's all about 2011 for this club. Start the countdown.