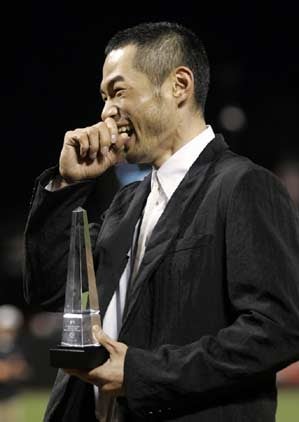 In about half an hour, the Mariners will play an exhibition game against the Milwaukee Brewers. (Man, interleague exhibition games were so much more novel before, you know, actual interleague play.) This is not a particularly compelling game, but it is noteworthy for one oddity: Ichiro Suzuki will try again to notch his first base hit of the spring.
He's pretty relaxed about it, though, in that laid-back, Zen sort of way that's, as always, probably part of a joke by the translator.
"To tell you the truth, some of this is kind of fun," Ichiro said. "To be in a situation this early in Spring Training and have this kind of a bit of intense environment is something that I couldn't experience before. Basically, it's a situation where I need to battle within myself, mentally. That's something that I haven't experienced at this time of year, and I get to experience that right now, and that is great for me. Once I get a hit it might actually make me sad that this experience isn't going to be here any more. But at the same time, I understand I need results."
We love the idea of Ichiro, after finally reaching first on a single, taking off his helmet and looking skyward as a solitary tear slows falls down his cheek. What he has lost can never be recovered, and he must trudge onward, brave, stoic, strong.
Ichiro Hitless In Spring, Still Not Excited About the Cleve [Walk Off Walk]