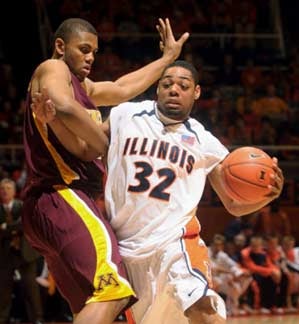 As part of our preparations for the lunacy that lands on our sports radars this Sunday, we've been digging around the irreplaceable Basketball Prospectus, trying to find those odd little tidbits on Oral Roberts and Siena. And we discovered something kind of amazing and oddly satisfying.
According to Ken Pomeroy's "Luck Ratings," the single unluckiest team in all of college basketball this year has been ... our Illini! That doesn't exactly make us feel better about a loss to Oprah's alma mater, but man, it at least allows us to convince ourselves that the stars have been aligned against us this year.
Anyway, because we're gluttons for punishment, we're gonna be live blogging the first round of the NCAA tournament next week, but our live blogging skills are quite rusty. (And don't compare to MJD's and Sussman's anyway.) So, as practice for that chaos, we're going to be live-blogging the Illinois-Penn State Big Ten Tournament game tomorrow at 2:30 p.m. ET. (Approximately.) We don't expect any of you to really care about our stupid Illini, but it wouldn't hurt us to stretch the muscles a little bit, so we're gonna say goodbye to this wretched team in style tomorrow.
Heck, maybe they'll even win! If they do, we won't be live-blogging that game; it's on the goddamned Big Ten Network.