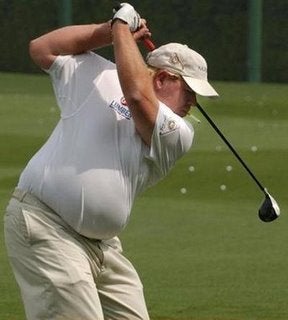 From AP: "John Daly woke up Wednesday morning to read that swing coach Butch Harmon fired him. Then he got a phone call when he was at the entrance to Bay Hill letting him know he had been kicked out of the Arnold Palmer Invitational for missing the pro-am." Wait, that sentence is wrong. It should have read:
John Daly woke up Wednesday morning on the front lawn of a junior high school, surrounded by empty tequila bottles and wearing a bra for a hat. Then he got a phone call letting him know that his pants were flying from the flag pole. /Fixed.
We mentioned Wednesday that Daly's coach cut him loose, but with Daly the fun just never stops.
Daly, who received a sponsor's exemption, played a Monday pro-am at Bay Hill and said he was asked to play the Wednesday pro-am, too. He requested a morning start, then called Tuesday to find out his tee time. A woman in the tournament office told him 9:47 a.m., which instead was his starting time for the first round.
But Daly also took down Nick O'Hern and Ryuji Imada as well. The two were alternates, and were called for the morning round when Daly didn't show. But since they weren't around, they were also disqualified.
It's not his fault! I blame Daylight Savings Time! Well, they'll all be sorry when the First Annual John Daly Invitational tees off next year.