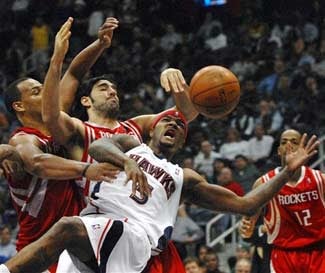 The NBA Closer is written by Matt McHale, who scraped out his eyes with a spoon after watching the Rockets' 20th consecutive win. Fortunately, the government immediately replaced them with bionic implants, but now they expect him to fight crime. So when he isn't using his now-better than 20/20 vision to battle the forces of evil, he can be found looking at basketball's imperfections at Basketbawful. Enjoy!

• I didn't think I could hate my eyes this much. The Houston Rockets beat the Atlanta Hawks 83-75 and thus became one of only three teams - along with the 1970-71 Milwaukee Bucks and 1971-72 Los Angeles Lakers - to win 20 games in a row. I watched this brutal assault on the eyes, and let me tell you: It didn't feel like a win. It felt like passing a gall stone. The game was played at the speed of paste. But don't think for one second that means the teams had time to work the ball around for good looks: They both shot 33 percent from the field. After 24 minutes of "basketball," the score was 33-32. It was 59-57 at the end of the third quarter. Tracy McGrady scored 28 points, Chucky Hayes grabbed 12 rebounds, Rafer Alston had a game-high 7 assists, and the Rockets used a 10-0 run in the final five minutes to establish their manly dominance. Said Houston coach Rick Adelman: "It may be the ugliest thing we've done, but it might have been the best one. We did enough to win." I would like to append "against the Hawks" to the end of that last statement. Speaking of Atlanta, Joe Johnson led them in scoring (28) and Josh Smith led them in rebounding (a career-high 22). Fun fact: Here's a short list of things that are at least as ugly as this game was: Kevin Costner's The Postman, the nasty beast thing that Amy Winehouse has become, the Fiat Multipla, this dude, whatever this is, Chris Kaman, celebrities without makeup, and Sam the Dog.
• Mmmm...the Orlando Magic loves appetizers. And that's pretty much what the Los Angeles Clippers are at this point. Of course, when the Clippers are served to you, there's always the danger of a really bad aftertaste and maybe a bout of crippling diarrhea. Dwight Howard filled his tummy (22 points, 13 rebounds and - gak! - 7 turnovers), Rashard Lewis bogarted the last of the nachos (19 points and 9 rebounds), and Hedo Turkoglu noshed on some celery and carrots (17 points). The result was a 110-88 victory that left the Magic feeling hungry again, like, 20 minutes later. Fortunately, they get to snack on the Heat and Pacers later this week. Memo to Stan Van Gundy: Stock up on Beano. Corey Maggette led the Clippers with 22 points and a winning, toothy smile.

• Speaking of ugly. Some games should be canceled before they ever happen, and Knicks/Heat is definitely one of them. I mean, haven't the fans suffered enough? The final score was New York 91, Miami 88, but trust me: There were no winners, only one loser and one bigger loser. Ricky Davis and Mark Blount combined for 35 shot attempts! If that doesn't cause you physical pain, then you've obviously lost all feeling from the hair down. Now, Pat Riley, he cared about this game, and he suddenly cares about his team. "The last three games have all been losses. They've been hard-earned losses. People on talk shows ridicule them, call them names, people in the media, and they're out there busting his tails." Riles then jumped on a plane, abandoning his team so he could go scout college players. Quote of the night: Bobby Jones, signed by the Heat to a 10-day contract and playing for his fourth team since December 26, said: "One week, I'm in the NBA, staying at the Four Seasons. The next week, I'm in the D-League, sharing a hotel room with another dude." Sharing a hotel room with another dude. Chilling.

• Yeah, yeah. I know the drill. LeBron James had 42 points, 11 rebounds, and 7 assists as the Cleveland Cavaliers beat the Ne...wait, what? New Jersey won?! Whoa. That's a new one. Richard Jefferson scored 24 points on 8-for-11 shooting, leading six players in double figures and helping the Nets eke out a 104-99 victory. Said Cleveland coach Mike Brown: "They kicked our behind. Right now, we don't have any answers obviously for that team and it showed tonight, it showed the first two games. They got our number. They kick our behind and until we go and prove different, you've got to give them credit. Richard Jefferson, Vince (Carter), they've had a field day every time we've played them." Sounds like this team could use a Bluto Blutarsky-style pep talk. Trade update: Ben Wallace, out with back spasms. Delonte West, 5 points (1-for-3), 5 turnovers. Joe Smith, 5 points (2-for-6), 7 rebounds. Wally Szczerbiak, 7 points (3-for-8), 4 rebounds, 5 assists. I'm just gonna let that sink in for a while.

• Don't you know who I am? I'm the Juggernaut, bitch! (If you're at all confused about that opening sentence, go here. You'll be glad you did.) In case you've been too busy following the Western Conference Playoff race, then I should probably inform you that the Boston Celtics are looking pretty darn good right now. Last night's prop was the Seattle SuperSonics. And yeah, it wasn't even a contest. Paul Pierce had 14 points and 11 assists, Ray Allen went rat-a-tat-tat (18 points, 8-for-11 shooting), and Kevin Garnett added 18 and 6. And none of those guys played more than 25 minutes. Man, it's good to be a Boston sports fan right now. Uh, except for that whole Super Bowl thing. Kevin Durant's ROY campaign continued with 16 points, 3 rebounds, an assist, and 4 turnovers. (coughAl Horfordcough!)

• Okay. Is it just me? Or are the Pistons not playing all the well right now? They barely beat the Sonics at home, they got handled in Boston, New York pushed them hard, Chicago made them earn it, and now the Sixers walk into The Palace and beat them 83-82. What is it? What's wrong? Are they losing focus? Waiting for the playoffs maybe? I mean, yeah, I know Philly has been playing pretty well, but they just got hammered by the Celtics the other day. Gah, I don't get it. Andre Iguodala took scoring honors (22), Samuel Dalembert and Reggie Evans combined for 26 rebounds, and Rodney Carney chipped in with 16 off the bench in what could be a possible first round playoff preview. 'Sheed came back from a gimpy left ankle to score 17 points for the Pistons, who also got 14 and 11 from Tony McDyess. Mr. Big Shot scored 15 but missed a big shot at the end of the game that could have won it.

• Yeah, I think they're for real. I had a long email exchange with a buddy of mine yesterday in which we discussed and debated whether the Hornets were really one of the top teams in the Western Conference. His argument was: "Going 4-0 against the Suns doesn't make them one of the best teams." My argument was: "They've got the fourth best record in the West and they've beaten each of the top nine teams - excluding themselves - at least once. I say that makes them pretty good." The argument ended with: "Let's wait until they beat the crap out of a good team." So...d'you suppose that a 100-75 pounding of the defending champs counts? I think it does. Chris Paul - who should really, really be a bigger factor in the MVP race - had 26 points and 17 assists, and David West returned from a sprained left ankle to score 29 and grab 10 rebounds for New Orleans. The Spurs received a 24-point, 11-rebound magic act from Timmy Duncan, and Tony Parker farted in the Hornets' general direction with his 24 points. But most of the rest of the Spurs, Manu Ginobili excluded, looked very old, and very lame. Gregg Popovich is praying they can just make it to the playoffs without somebody blowing out a hip.

• All good things must come to an end. And so the Charlotte Bobcats' franchise-best five-game winning streak was halted by the Dallas Mavericks last night, 118-93. But I'm sure no one in Charlotte will ever forget those five magical games in which the team scored at least 100 points each time. It's a virtual certainty that no NBA team will ever eclipse the 1971-72 Lakers' 33-game romp, and it's almost as certain that no Bobcat team will ever win more than - or as many as - five games in a row. So congratulations, Charlotte. It was a nice run while it lasted. The Mavs got 26 points out of Herr Nowitzki, another 24 out of Josh Howard, and 8 assists from Jason Kidd. The 'Cats were led by Raymond Felton's 21 points, and Gerald "Maybe I Really Was The Problem" Wallace returned from a concussion to score 14 points off the bench.