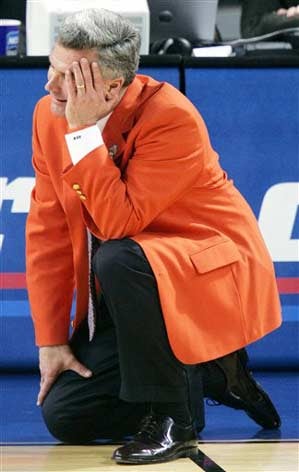 We know, we know: Nobody cares about a stupid liveblog of a pointless Big Ten tournament first round game. We're fully aware. As we mentioned yesterday, it's just, like, practice or something.
Yes, we'll be spending our Thursday and Friday of next week live blogging the first round of the NCAA tournament — the afternoon games, anyway — and we are extremely rusty. Therefore, this little practice round of a game no one cares about but us.
Oddly, Vegas has the Illini as an eight-point favorite in this game. Clearly, Vegas hasn't watched many Illini games this year. We'll see how this goes.
Anyway, let's start it up ... after the jump.
———————————————
Final Score: Illinois 64, Penn State 63
FINAL: Chester Frazier hits a layup and ILLINI WIN GOD WE LOVE BASKETBALL NOTHING BETTER THAN MARCH.
:15: Illinois has the ball down by one. We just talked to our dad. There were expletives.
:51: There was 4:30 left when Musberger said, "Illinois starting to take control here." Since then? Penn State 11, Illinois 0. Screw off, Musberger.
LESS THAN A MINUTE TO GO PENN STATE BY ONE WHY DO WE CARE?
2:04: Two free throws gives Penn State the lead. An 11-0 run. Not even Erin Andrews can cheer us up now.
2:10: Illinois misses another shot. Penn State driving. We are now throwing things around the room, regardless.
2:51: We've seen just about enough of this Talor Battle kid; he inspires Randle to foul out and brings Penn State within one. If this is Randle's last collegiate moment, it seems about right: Looking disappointed and fouling out.
3:30: Time out with Illinois up by three. It's all crashing right here.
3:45: Make that a seven-point run. A three-point lead. We're telling you: We've been watching Illinois all season, and this looks AWFULLY familiar. If we weren't already broken down by four months of this, we'd be throwing stuff around the room. Now, we just can't muster the enthusiasm.
4:30: Musberger just said, "Illinois is starting to take control here." And, on cue, here come five straight points from Penn State.
4:52: Shaun Pruitt hit two free throws! Illinois by 10. We're due for an Erin Andrews update on Bruce Weber growing a second penis.
5:54: Taking advantage of the "Penn State Has A Guy Lying Down Hurt On The Other End Of The Floor," McCamey drives and lays it in to give Illinois an eight point lead. And JEFF JORDAN, MICHAEL'S SON is back in the game.
6:40: Trent Meacham drains a three, and Illinois has a seven-point lead. We are far from over. As if to prove it, the slappy white guy for Penn State hits his own, and it's four again.
7:35: We know we're the only one here watching this. Imagine if it were on the Big Ten Network.
8:43: A bad call that goes Illinois' way keeps the Illini with the lead. Oh, and Larry Bird is here, sitting alone in a suite. That guy isn't too happy these days.
9:25: Back to a two-point game. How in the WORLD was Illinois an eight-point favorite in this game?
10:25: Jeff Jordan isn't in the game, but, so you know, he's not Client 10. Thanks for the update!
11:38: Erin Andrews updates us on Randle's injuries, and the reciting of her name causes his spleen to burst. It's OK, Brian; same thing would happen to us.
12:19: Randle is fouled on a layup that gives Illinois a six-point lead. The bad news is that his fibromyalgia is acting up.
12:30: We love it when the ball gets stuck between the rim and the backboard. It's like watching a flipped coin land on its side. It feels like time stops.
13:32: Illinois hasn't scored in almost five minutes, but it ends with a Frazier 3-pointer. He was obviously WIDE open. Illini by four.
14:45: It's a Jeff Jordan sighting! He comes in just in time to watch Penn State come within one. In case you're wondering, Jordan's quick, smart and outstanding on defense. But man: Please don't let him shoot.
15:11: We were wondering why everyone looked so depressed, and then we remembered: They're in Indianapolis!
15:45: Pruitt going to the line before the commercial break. To save us this gruesomeness, Erin Andrews does a report. In addition to being an excellent sideline reporter, she's actually kind of pretty.
17:00: A McCamey three and a Randle jumper give the Illini a five-point lead. A note on McCamey: The guy's very talented and is one of the people Kelvin Sampson got in trouble for calling. (Grrr.) Say what you will about how great Gordon is, but he'll just be around one year. McCamey, who is kind of Gordon's replacement, should hit the whole four. If Indiana doesn't win it all this year, Illinois wins that battle.
(Yes, we're reaching.)
18:45: This game is VERY ominous. As Lavin points out, Illinois has been terrible at three and free throws all year. This game they're hitting both those ... and we're still tied. Ugh.
Second Half
Halftime: That Battle fellow once again drove through three? four? we'll call it six Illini to score at the buzzer. Illinois is up by two and should be up by 10. Alas. Andrews talks to the Penn State coach at halftime, and he looks like every accountant we've ever met.
HALFTIME: Illinois 39, Penn State 37
:41: Lavin just mentioned having a margarita! We'll call that a shoutout!
:41: Taylor Battles weaves through four Illini, and it's a two-point game. Weber quacks a timeout.
1:30: For some reason, seeing "Billy Crystal, 0-1, K," on the ESPN Bottom Line makes us angry. There's no reason for that to be the case, but it is, nevertheless.
1:46: Illinois just had a 5-on-1 break. Amazingly, the Illini scored.
2:25: This game has devolved into the brutal. This is how Illinois has lost all season; playing well enough, but not scoring much, and next thing you know ... the game's tied, and then the other team goes on a run, and then they're down by 10. This reeks of something that's just around the corner.
2:54: Ha. We're not leaving Deadspin. Who says journalism isn't done on blogs?
3:55: For a while, this was a crisp, smoothly played game between two teams playing above their heads. That didn't last long. Illinois by four, and we're not sure a single thing has happened in the last four minutes. This conference should get its own network.
4:45:: Here's your Brian Randle: He makes a great steal, drives all the way down the court ... and travels on the breakaway.
5:55: Now here's a Big Ten game for you: We've gone about three minutes without a basket. A Nittany Lions dunk brings them within four.
6:49: A Jared commercial, followed by Carlos Mencia's multicultural hour. It's gonna get so much worse during the actual tournament too.
7:15: Illinois is 6-for-11 from the 3-point line, and they're only up by six. This does not bode well.
8:12: Erin Andrews is back! She's discussing tendonitis in Chester Frazier's knee. Like listening to butter churn. Or something.
8:45: So here's something we're not used to seeing: After a Chester Frazier free throw, the Illini have a double-digit lead.
9:11: Hey, is that Giuliani?
10:10: Shawn Pruitt hit a free throw! Yowza!
10:25: Promoting their new "Black Magic" show — which looks pretty cool, actually — ESPN shows Charles Oakley in college. It seems bizarre to think of Oakley that young. We imagined him being born the age of 34. And what a painful childbirth that would have been.
10:57: We'll talk a lot about Demetri McCamey today — he hit a three just now, and the Illini are up 20-17 — but our favorite fact is that his high school coach was Gene Pingatore, otherwise known as the Bad Guy in "Hoop Dreams." He was also Isiah Thomas' coach, so we will be following McCamey QUITE closely in coming years.
13:00: This "Jones" fellow for Penn State made a layup and screamed like he was Monica Seles. Imagine how he'll scream when HE gets stabbed. Grrr.
14:15: True story: We once drank three margaritas with analyst Steve Lavin when we lived in LA (and he was still UCLA coach). He was kind of friendly, actually, and allowed us to use his hair as a seasoner.
14:45: Andrews makes her first sideline report, about all the injuries the Nittany Lions have had this year. She plays sympathy well. We love that ESPN calls its biography segments like this, "bio-blasts." That sounds either like a children's treat, or something very painful.
15:15: Musberger just said Illinois was on a "6-3 run. It has been that kind of year. Illini up 13-12 at the 15-minute break.
16:00: Shawn Pruitt lays one in down low to give Illinois a 7-6 lead. Pruitt is like Deon Thomas — god, you non-Illini fans must be LOVING these early-90s references — which is a bad sign, because guys like Deon Thomas, as good as they are, only succeed on bad teams. This Battle fellow for Penn State hits a three to give Penn State a 9-7 lead, and then Stanley Pringle — nice name, dope! — his another one, makes it 12-7..
18:30: Trent Meacham hits a 3-point to give the Illini a 5-2 lead. Meacham is a perfectly serviceable player, but when he's your main scoring option ... you're in trouble ... particularly when he's only starting because Eric Gordon ... oh, let's stop.
19:25: The Illini are wearing their orange jerseys. This used to be just for special occasions; it is a sad commentary on the Illini season that a first-round Big Ten tourney game against Penn State counts as a "special occasion." Randle with a lay-in to kick us off.
20:00: Brian Randle is starting. It's unbelievable that guy played on the Final Four team. No player has been more frustrating to Illini fans than Brian Randle. Can't blame Weber for that guy. He looks cooler when his head is shaved, too.
Still more pregame: Just to be rude, ESPN shows Bruce Weber giving his pregame speech. The man still talks like a duck. It's difficult to be inspired by a duck. We still don't think he should be fired.
Hey! Hi, Erin Andrews! She's wearing a mock turtleneck thing. It must be cold in the ole Canseco Fieldhouse.
More pregame: Sweet! It's Brent Musberger. He's the whippets of broadcasters!
Pregame: Before we start, we'd like to thank MJD over at Yahoo for this gem, a "poetry slam" from an Illini fan against Eric Gordon. Yes. We're all still bitter, unfairly so. We still don't disagree with a single word here:
Traitor, Eric Gordon
You are a disgrace
You chose another school
So I'll throw bricks at your face
I'm mad because we suck
But my anger is not misplaced
I'm going to cut off your head
Because we need something to fill our trophy case
Sure! Go Illini!