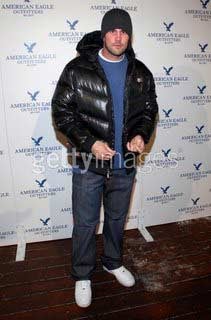 ESPN: The Magazine is turning 10 years old, which means pretty soon it's going to start noticing girls and getting funny feelings in its pants. To celebrate, it's doing a series of covers with athletes all dolled up in fancy clothes. And that's just the beginning.
According to Women's Wear Daily, ESPN has hired a style director and will begin crediting fashion designers.
"People want to know what athletes are wearing to and from the ballpark," said Steven Binder, vice president of magazine sales. "ESPN should be doing this."
Wait, they do? That can't be it, can it?
Oh:
It's also a great opportunity to tap into those fashion ad dollars, although the current economic climate might make that more difficult. Binder said the magazine is also seriously considering putting on an event in Milan during the spring shows.
An ESPN runway show in Milan! Heavens: Our brain just imploded.
Athletes Can Dress Up [WWD] (second item_