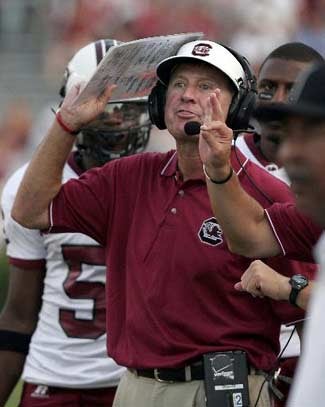 For years, SEC opponents have been referring to South Carolina coach Steve Spurrier as a horse's ass. Now, once and for all, he is a horse. And he might just make the Kentucky Derby.
Yep, some dope has named his horse Steve Spurrier, and it's our bad luck that it's actually a pretty fast horse.
Trainer Todd Pletcher, who won the 2007 Belmont with Rags to Riches, has been working his magic. "Every time we put him against another horse in training, he is right there," Pletcher said. Spurrier's big test is expected to come April 5 in either the Wood Memorial or the Illinois Derby.

"He has grown mentally as well as physically," Fort says. "If he improves as much in the next two months as he has in the past two, he will be right there [in the Kentucky Derby]."
If this horse wins the Kentucky Derby, and then breaks his leg heroically at the Preakness ... well, at least we'll finally have someone to answer all the emails. And we know which horse will have no problem mercilessly increasing a substantial lead.
Is Spurrier Headed To The Kentucky Derby? [The Wizard Of Odds]