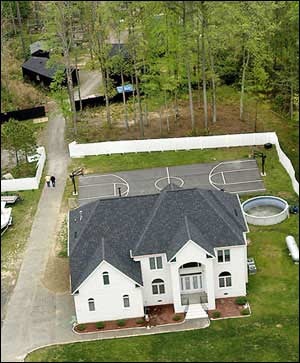 We close out a surprisingly busy Thursday with a little bit of class envy. It's tastes good, and is good for you. Kid-tested, mother-approved.
This not a picture of Tiger Woods' house, but it's kind of nice, even if you're not into the whole "huge house with attractive Aryan wife" thing. And The Angry T has discovered that you can buy in as Tiger's neighbor. And boy, is the price right.
A mere $1.55 million will get you in the front gates of Tiger's 'hood (that's $7600 a month with a down payment for the mortgage plus $1800 for taxes). The most expensive listed place is $7.475 million, with taxes north of $6000 a month. No word on how much Tiger ponied up at closing on his $38 million spread. I'm sure they'd run a check of your bank account before even divulging that lots like that exist, but sharing a neighborhood with Eldrick, Shaq, Vinsanity, and Ken Griffey Jr. probably helps resale value right?
You think that neighborhood gets kind of embarrassed to have Vince Carter around? If that were New York City, the co-op boards would have kicked him out the minute he took off from Toronto.
Do You Want To Live Next To Tiger Woods? [The Angry T]