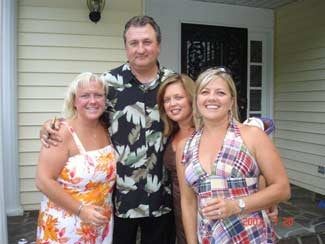 The College Basketball Closer is written by the gang at Storming the Floor.
I live in ACC country, and people here are used to hearing six or seven familiar team names called on Selection Sunday. But this year, the conference is top-heavy, with North Carolina and Duke on a level far above challengers Clemson and Miami. With the latter team winning today, those four teams may be all the ACC gets.
The tough neighborhood this season is the Big East, where up to eight teams might make the grade. Nine different squads have held national rankings during the season, and none of the top teams should feel the least bit safe during the post-season tournament. The Quarterfinals are starting to look like Thunderdome, as lower-seeded teams are battling for better NCAA real estate by taking out the regular-season winners. Observe:
West Virginia 78, UConn 72. Consider that statement made. Bob Huggins will lead his alma mater to the NCAA tournament in his first year at the helm, after upsetting a Connecticut team that was ranked No. 15 in the nation. Mountaineer forward Joe Alexander scored a career-high of 34 points, which is just two more than his previous mark, set against this same opponent on March 1. Georgetown is next for WVU.
Pitt 76, Louisville 69 (OT). Sam Young led four Panthers in double figures, putting up 21 points and pulling down 11 rebounds. The winning margin came in overtime, as Pitt outscored the Cardinals 14-7, calmly sinking free throws while Louisville donged three-pointers.
Georgetown 82, Villanova 63. 'Nova's good feelings didn't last long after they eliminated Syracuse from the bubble. I'm sure the Wildcats would have preferred to make a better showing against the Hoyas, even in a loss. In their defense, they did put together a nice run to start the second half before succumbing to Jessie Sapp's career-high 23 point outing.
Marquette 89, Notre Dame 79. 5'8" Mo-reece Acker rolled out of the halftime break with guns blazing, scoring all eleven of his points in the second half. Luke Harangody fouled out, and the Irish were on the ropes. Jerel McNeal put in 28 to lead all scorers.
So, that's the 1, 5,6, and 7 seeds in the semis. I'd call that a balanced conference.
Other Tournament Action
It sounds like someone got a hold of the bubble wrap and is sitting there, deliberately popping the bubbles one by one. A small minority are popping because they aren't needed any more, as their occupants move onto firm bracket ground. The rest evaporate and send teams falling into the abyss. Or, as we like to call it, the NIT. I'm surprised ESPN hasn't cooked up some silly name for this collection of meaningful Quarterfinal games - something like "Clarification Thursday."
ACC Quarterfinal: Miami 63, N.C. State 50. You know what Julius Hodge would say about this N.C. State team? "If you scared, get a dog." Last season Sidney Lowe was able to ride the magic of the Hey Kool-Aid blazer to the brink of an NCAA bid, but this year, that dog don't hunt. Miami simultaneously puts the Wolfpack out of their misery, and cements their first NCAA bid since 2002, when they were a rare first-round victim of the Missouri Tigers.
Pac-10 Quarterfinal: USC 59, Arizona State 55. Reviewing the carnage in other sections of bubble-land, the Sun Devils might still feel OK about their chances. I think everyone feels safer when we can count on Trojans to mount an effective defense, right? Aside from that, O.J. Mayo is coming on strong at the right time, as he scored 23 to lead his team to victory.
C-USA Quarterfinal: Tulsa 78, UAB 68. At one point, UAB was clearly the second-best team in the sprawling Conference USA. Now they look like a punch-drunk boxer who can't find his mouthpiece. After an encouraging five-game win streak, the Blazers ended the season with a 38-point loss at Memphis. And now this disaster. This is not the Tulsa of Tubby Smith or Bill Self, so it seems unlikely that this signals the beginning of a Golden Hurricane run.
Also screwed:
Baylor - lost to Colorado in the first round of the Big 12 Tournament.
Houston - lost to UTEP in C-USA Quarters.
Florida - lost to Alabama in the SEC's first night of tourney play.
Oregon - Got Cougared (and not in the good way) at the Staples Center.
UMass - Good Charlotte makes Minutemen feel Emo in the A-10.
Maryland - Joins Syracuse in the NIT waiting room after choking vs. Boston College.
Ole Miss - Dropped by a Georgia team that managed only four wins in the SEC.
Arizona - Stanford was too much for the Wildcats in the end.
New Mexico - Utah does away with the Pit Monsters in a red-eye special featuring OT.
In with Auto-Bids: Cornell (Ivy), Winthrop (Big South), Belmont (Atlantic Sun), Austin Peay (Ohio Valley), Drake (Missouri Valley), George Mason (CAA), Siena (MAAC), San Diego (WCC), Butler (Horizon), Davidson (SoCon), Oral Roberts (Summit), Western Kentucky (Sun Belt), Mount St. Mary's (NEC), Portland State (Big Sky)
Linkage: If you'd like to discuss Selection Sunday as it happens, the good folks at Bizarro Joe Lunardi will be hosting a live-blog of the televised portion of the show. [Bizarro Joe Lunardi]
The Closer will return this evening with a recap of some of the early action from today, and a preview of tonight's big conference tournament games.
Eric Angevine writes about College Hoops at Storming the Floor and CAAZone. He can be reached at stormingthefloor@gmail.com.