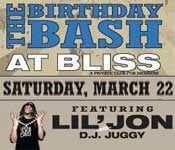 Looking for that perfect Saturday night activity? Live in the Salt Lake City area? Have 29 bucks to blow on a the possibility of seeing Andrei Kirilenko party like it's New Years Eve? You're in luck.
On Saturday, March 22, you can get together with Lil Jon and the Utah Jazz to party Salt Lake City-style. And they said black players didn't like it in Utah! It's Lil Jon! And, uh ... well, the MySpace page for Bliss Nightlife, the club the party is hosted at, looks like it would scare pretty much everybody else in Utah.
It's a birthday party for CJ Miles and Ronnie Brewer, hosted by Deron Williams, so, you know, it has to be wild.
Someone's gonna get Lil Jon out of town pretty quick afterwards, right? Right?
Anyway, get your tickets. Plenty available.
Lil' Jon & Utah Jazz Party [24tix]