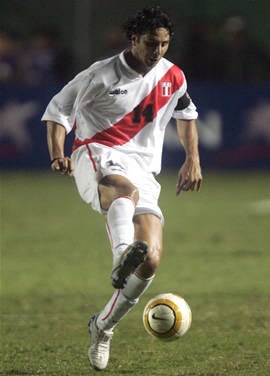 Butch Cassidy: [spanish] Manos a... Manos, um... Manos arriba!
Sundance Kid: They got 'em up! Skip on down.
Butch Cassidy: Arriba!
Sundance Kid: Skip on down!
Butch Cassidy: Todos ustedes "arrismense" a la pared.
Sundance Kid: They're against the wall already!
Butch Cassidy: Donde... ah, you're so damn smart, you read it!
Another reason that you should never pay your team in cash: The Peruvian soccer team Cienciano were robbed by armed men as they were collecting their wages on Thursday.
The victims, who were forced to lie on the floor during the raid, included Peru internationals Juan Carlos Bazalar and forward William Chiroque. The robbers were reported to have made off with $85,000 in cash as well as the players' wallets and mobile phones. The incident occurred at the club's headquarters in the Andean city of Cusco on Wednesday, the day after Cienciano had beaten fellow Peruvians Coronel Bolognesi 1-0 in a South American Libertadores Cup match. Police said the raid lasted five minutes before the criminals sped off in a blue car.
And since there are only four cars in Peru — and only one of them blue — this investigation should be over in no time.
Could you imagine if the New England Patriots were paid in this fashion? It would be like the takeout deli scene in Bananas, only with wheelbarrows full of hundred dollar bills instead of coleslaw.
Players Held Up And Robbed While Collecting Wages In Peru [Guardian]
I Gotta Say It Wasn't A Good Day [Deuce Of Davenport]