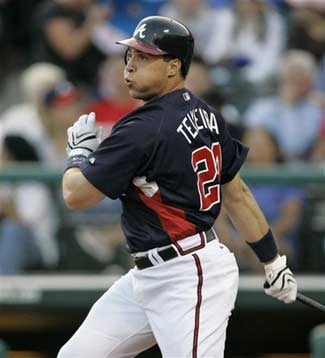 For the third consecutive season, we are proud to introduce the Deadspin Baseball Season Previews. Yes, baseball is awfully close now; it's spring training, after all.
Every weekday until the start of the season, a different writer will preview his/her team. We asked a gaggle of writers, from the Web, from print, from books, to tell us, in as many or as little words as they need, Where Their Team Stands. This is not meant to be factual, or dispassionate, or even logical: We just asked them to riff on why they love their team so much, or what their team means to them, or whatever.
Today: The Atlanta Braves. Your author is Jay Busbee.
Jay Busbee is the editor of Yahoo! Sports' NASCAR blog From the Marbles and Atlanta Magazine's Atlanta sports blog Right Down Peachtree. He's also the author of The Quiet Dynasty: The Inside Story of the Atlanta Braves' Championship Run, coming out next year. His words are after the jump.
—————————————————————
So this is what life is like for the rest of you.
If the Braves Dynasty isn't dead, it's clearly on life support and nonresponsive. The Atlanta Braves are now two seasons removed from their last playoff appearance, six years from their last playoff series win, and twelve—twelve!—years from that lone World Series ring. Atlanta is now like that creepy dude who graduated from college but hung around in town afterward, still going to parties at his old fraternity. Yeah, the Tomahawk was friggin' money back in the day, but now...no, no, don't make eye contact, he'll come over here—Hey, Tomahawk! How ya been! Great, great...
Braves fans insist that Atlanta's fine, that the Braves are going to run with the Mets and the Phillies. But a lot of that is fantasy-league delusion—we've got Glavine, Smoltz, Chipper, and Javy Lopez, we won a World Series with these guys! Somebody get Ryan Klesko and Steve Avery on the phone!
Thing is, it's not a completely insane thought that we'll challenge for the pennant. As old as he is, I'll still take Smoltz over all but a handful of starters in the NL. Tom Glavine's Manchurian Candidate routine of last October—torpedo the Mets' playoff hopes, then jump ship and re-sign with Atlanta—was baseball schadenfreude of the highest order. Tim Hudson is justifying the monstrous salary Atlanta threw his way after he left Oakland. Rookie Jair Jurrjens is pitching like the second coming of Greg Maddux.
At the plate, Chipper Jones, long past caring whether you call him "Larry," is putting the final grace notes on a Hall of Fame career. Mark Teixeira is going to become one of the game's marquee players over the next five years, though Braves fans are dreading the likelihood that he'll be playing somewhere well northeast of Atlanta this time next year. Brian McCann is the sweetest-swinging catcher in the game not named Mauer, and everything's lining up for right fielder Jeff Francoeur to have his breakout season. Shortstop Yunel Escobar, who snuck out of Cuba four years ago, played well enough in his rookie season for the Braves to send Edgar Renteria to the Tigers.
So, yeah, with a solid lineup of at least three likely 15-game winners and four .300 hitters, Atlanta should be challenging for the division title and probably the NL crown, right? So how do I know that come September, Atlanta's going to be burbling along at four games out, unable to close the gap between them and the Mets/Phils?
Sure, you could blame injuries. You could blame a bullpen that has a tendency to implode and bats that go limp at the worst possible moments. You could, but those problems hit every team. I'm looking in another direction.
I blame us. That's right, the Atlanta fans, the perennial postseason punch line. (Hey, alliteration!) It's our fault the Braves can't get over the hump. Our fault they can't give any more than ninety-eight percent. Our fault their eyes are cloudy and their hearts are half-full.
We've got this strange combination of insecurity and flop sweat—we want the world to pay attention to our team, but when they do, the Braves belly-flop spectacularly. We suffer the sanctimonious smugness (More alliteration!) of hack sportswriters when we don't sell out playoff games, but don't go thermonuclear when everybody ignores the fact that, say, the San Antonio Spurs are suffering the same early-round playoff fatigue.
We boo Tom Glavine, one of the three or four greatest A-Braves ever, and give a standing ovation to Julio freaking Franco after he jumped to the Mets and then returned to Atlanta. The finest moment in our team's history—the Game 6 win over the Indians in the 1995 World Series—was colored by the fact that David Justice had to call us out the morning of the game. He didn't think we knew how to get fired up for the final games of a World Series. And he was right.
So we can make all the excuses we want—Turner Field's too tough to get to, Georgia Bulldog football is more interesting, we're just tired of all this winning—but the truth is, we're as much to blame for the Braves' shaky public image as any gopher-ball-tossing closer or flailing utility infielder.
We need to realize winning isn't our birthright. We need to get off our asses and get to a ballgame now and then. We need to cheer this team like it's 1991.
And I promise I will. The very next time they're in town. Promise.