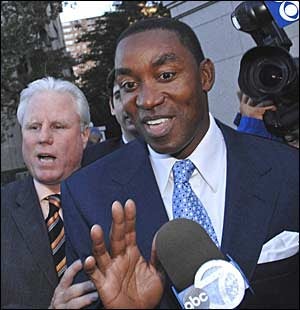 Did you know that there was a Cedar Rapids Kernels Baseball Club? They're the Iowan Class A affiliate of the Los Angeles Angels of Anaheim (man that's a lot of prepositions), and their nickname is the Kernels. Which means there's only one logical corporate sponsor. Ladies and gentlepeople, welcome to Isiah Thomas Stadium.
Well, kind of. Thomas' Dale And Thomas Popcorn has bought naming rights to the Kernels' stadium.
A new era has begun for the Cedar Rapids Kernels Baseball Club. The Cedar Rapids Kernels and Dale and Thomas Popcorn announced today a five-year field naming rights partnership. The field at Veterans Memorial Stadium will be named the "Dale and Thomas Popcorn Field at Veterans Memorial Stadium". At the press conference held today, Kernels President Tom Barbee officially announced the partnership between Dale and Thomas Popcorn and the Kernels.
It is perhaps telling that the press release announcing the move doesn't mention Isiah's name at all. Apparently Thomas' stewardship of the Knicks has made him persona non grata even in the world of minor league baseball.
Still, though: It's almost Isiah Thomas Stadium. That place is gonna catch on fire and fall apart in a matter of weeks.
New Ere For Veterans Memorial Stadium [Kernels.com]
Get Your Isiah Popcorn Here [Deadspin]