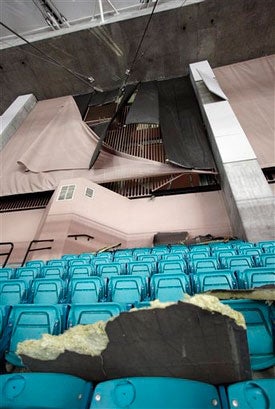 It's refreshing to hear that nobody got injured when the severe weather struck down on the Georgia Dome during the SEC tournament, which means we're allowed to have a little fun with this.
The Alabama-Mississippi State game took an abrupt halt as a billowy noise shook the stadium and random parts of the ceiling descended like manna. Dirty, inedible manna. And The Sporting Blog's Orsonspencer Swindlehall was in attendance:
Of the things I'd never thought would cross my mind, this thought's up there: am I going to die sitting three chairs down from Bill Raftery and Verne Lundquist? Is that Cloverfield coming to eat us all? How many of the sportswriters surrounding me can run to the bowels of the Georgia Dome without tearing an ACL? And if we're trapped here, which ones will I eat for food?
While this was not the first time a blogger filed stories with soiled trousers, it was likely one of the first times done admirably so. And he also snapped photos of the surrounding damage, notably from the adjacent Georgia World Congress Center.
The game eventually resumed, which Mississippi State won in overtime, but it completely pushed back the Kentucky-Georgia game until this afternoon, which is being held at Georgia Tech's arena. The winner of that game has to play again tonight against Mississippi State. (Note: I once played four 8-end games of tournament curling in one day. So two basketball games in one day is doable. Babies.)
And now, video of the weather as it unfolded, via Loser With Socks:
Game Interrupted By 'Hailnado' at SEC Tournament [The Sporting Blog]